Excerpts from the Launch Party
|
author/source:
Cathie Briggette
SPEAKERS

Cara Belvin from empowerHER a non-profit organization that supports young girls who have experienced the early loss of their mothers. Cara was our Women of Interest for May 2018

Tara West of Tara West Fashion – Tara is an independent personal stylist. She was voted multiple times as Boston's A List Fashion Blogger, and was our Women of Interest for April 2018

Stephanie Troy of Your Whole Healing - Stephanie is a licensed social worker, therapist and teaches yoga too. Stephanie wrote: "The Advantage of Being Happy"

France Crespin – Entrepreneur, Started Môme Care, the first premium skincare brand for children and adolescents. France will be our Women of Interest for June 2018.

Helena Grant – H. Grant Style, entrepreneur, launched H.Grant Style in 2015. Helena wrote: "3 Antidotes to I-Have-Nothing-To-Wear"

Evelyn Reyes Beato – Writer, Actress, Big Sister, Executive Assistant, Fashion/Art Student. Evelyn has written a few articles for Herself360: "Steeped in Style – Fashion Review", "Annual Life Modification Program" and "Put A Little Adventure In Your Life"

Lindsay Hill – Founder of Lindsay Hill Design, for over 20 years, Lindsay has produced award-winning creative solutions for a wide variety of corporate, nonprofit, and public sector clients. Lindsay created the Herself360 logo. And was our March Woman of Interest

Michele Chausse – Director of Communications at Rosie's Place

Susan Walker – Elia Photography – Susan has been photographing people for over 2 years. She loves women – mothers, sisters, daughters, friends the most. Susan is the Herself360 founders photographer. You can see her pictures of us on our About us page.

Laura McEvoy - Writer and founder of YO-Glow, and yoga series for girls

Meaghan Corson – Founder of Flash22, Video Marketer and on Camera Presence. Meaghan worked on the Women of Interest Video Series with Herself360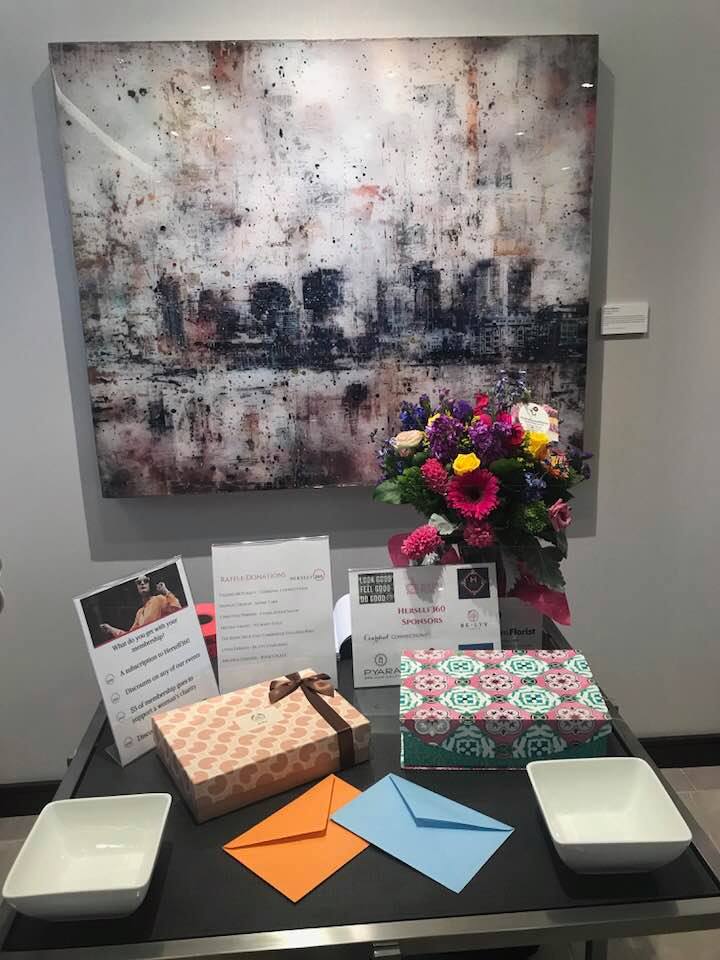 Door Prizes:
Valerie McSorley of Coardial Connections
Central Square Florist for the flowers at the raffle table

Raffle Prize Donors:
Christine Perkins of Pyara
Volunteers:
Jennifer Hook
Sarah Briggette
Molly Abrahamson
Komal Roa
Ronnie Williams
Dole and Bailey - for the great food and to all their ladies who came to help.
The AC Hotel, Shazia, and Elizabeth for all their help. The Hotel donated the two rooms that we met in.
REMEMBER:
Please connect with all of these great ladies through their social media. Also, you received a Herself360 Notebook, please, as a gift to yourself, write down your story. Share it. There are so many great stories that we all have, and that is what this magazine is all about. Women helping women.