Women in History - Elizabeth Peratrovich and Mary Baker Eddy
|
author/source:
Renée Greene
March is National Women's History Month


In 1987 the US Congress designated March as National Women's History Month. This creates a special opportunity in our schools, our workplaces, and our communities to recognize and celebrate the often-overlooked achievements of American women. Each year there is a special Theme and women whose lives exemplify that theme are selected as National Honorees.
NEVERTHELESS, SHE PERSISTED:
Honoring Women Who Fight All Forms of Discrimination Against Women
National Women's History Project's 2018 Honoree
Elizabeth Peratrovich (Kaaxal.gat) (1911-1958)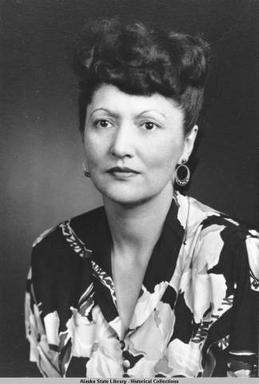 An Alaska Native of the Tlingit nation, Elizabeth Peratrovich was a civil rights leader ahead of her time. Her activism led to the passage of the Alaska Territory's first anti-discrimination act (1945).
Elizabeth Peratrovich grew up in a small Alaska village and was orphaned at a young age. She and her husband Roy, also of the Tlingit nation, had three children and moved to Juneau seeking more opportunities.

During the 1940s Juneau was segregated; the Peratrovich's, previously having lived in small mostly native towns, were shocked at the levels of discrimination. Signs in shops and public facilities reading "No dogs or natives allowed" were all too common. Neighborhoods and schools were segregated and it was difficult for Alaska Natives to secure good jobs. As a leader of the Alaska Native Sisterhood, she refused to tolerate the second-class treatment and petitioned the territorial governor to end segregation. An Anti-Discrimination Act failed to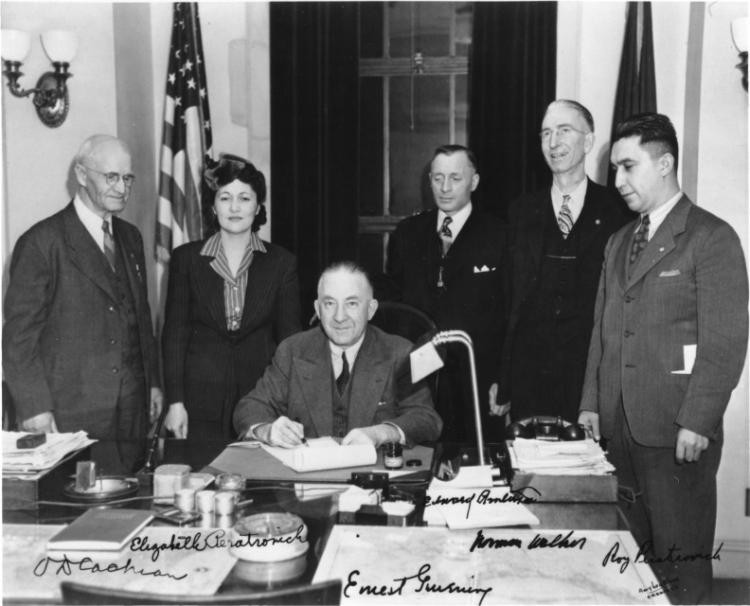 pass the Territorial Legislature in 1943. Peratrovich continued to lobby for civil rights and in 1945 the law again came for a vote. Peratrovich was the last to testify saying in part "I would not have expected that I, who am barely out of savagery, would have to remind gentlemen with five thousand years of recorded civilization behind them, of our Bill of Rights." She eloquently spoke of the personal hardships experienced by her children and her community as a result of segregation. Her impassioned testimony and tireless lobbying efforts are credited with securing the legislation's passage. On February 16, 1945, the Alaska Territory passed an anti-discrimination act to protect the civil rights of Alaska Natives. The law was the first of its kind nationwide and passed a full 19 years before the US Congress passed the Civil Rights Act of 1964.
Elizabeth Peratrovich died of cancer in 1958. She has received numerous posthumous honors; In 1988 the Alaska Legislature declared February 16 as Elizabeth Peratrovich day, the Alaska Native Sisterhood established an award in her name, and in 1992 a gallery of the Alaska State Capitol was named in her honor.
First Woman to Found a Major Religion in the United States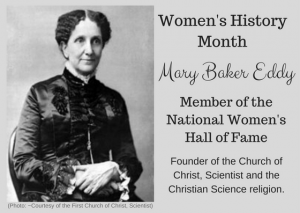 Mary Baker Eddy (1821–1910) was an influential American author, teacher and religious leader, noted for her groundbreaking ideas about spirituality and health, which she named Christian Science. She articulated those ideas in her major work, Science and Health (1875). Four years later she founded the Church of Christ, Scientist, in Boston, Massachusetts, which today has branch churches and societies around the world.
Early Years
Mary Morse Baker was born on July 16, 1821, in Bow, New Hampshire, the youngest of six children of Abigail and Mark Baker. Mary's formal education was interrupted by periods of sickness. When not in school, she read and studied extensively at home, writing prose and poetry from an early age. Her parents sought help from physicians for her ailments, but the treatments brought only temporary relief.
At age eight, Mary began to hear voices calling her name; she would go to her mother, only to learn that her mother had not called her. This went on for a year. In her autobiography, she wrote: "One day, when my cousin, Mehitable Huntoon, was visiting us... the call again came, so loud that Mehitable heard it... Mary responded to the voice with the phrase from Samuel: 'Speak, Lord; for Thy servant heareth.' ...never again to the material senses was that mysterious call repeated."
When Mary was twelve she rebelled against the Calvinist doctrine of predestination: the belief that a horrible decree of endless punishment awaited sinners on a final judgment day. Amid this clash of views with her father Mary developed a fever, which at last prompted her father to set aside his stern beliefs. She was healed of the fever after prayer.
Marriage and Family
On December 10, 1843, Mary Baker married George Washington Glover, 32, a building contractor, and sailed with him to Charleston, South Carolina. In 1844 the Glovers traveled to Wilmington, North Carolina, where George Glover died of yellow fever on June 27, 1844. Mary freed her husband's slaves, and returned to her parents' home in New Hampshire, where her first and only child, George W. Glover, was born on September 12, 1844.
The social climate of the times made it very difficult for a widow to earn money. Mary wrote political pieces for the New Hampshire Patriot and worked as a substitute teacher in the New Hampshire Conference Seminary. Her success there led her to open an experimental school in 1846 - an attempt to introduce kindergarten methods. However, the school was not accepted by the public and soon closed.
Mary's mother died in November 1849 and about a year later, her father married Elizabeth Patterson Duncan, who did not welcome either Mary or her child. Still suffering from recurring bouts of illness, Mary was often bedridden during this period. In 1851 Mary's sister Abigail Tilton offered her a home, but son George was not welcome. Mary then placed George in the care of the Cheney's, a childless couple with a small farm in North Groton, New Hampshire.
In 1853 Mary married Dr. Daniel Patterson, a dentist and relative of her father's second wife, and moved to Franklin, New Hampshire. To be near her son, Mary and Patterson moved to North Groton in 1855, hoping he would adopt the boy. To support his semi-invalid wife, Patterson bought a half interest in a saw mill on their property. Patterson showed no interest in providing a home for young George, and in 1856 the Cheney's moved to Minnesota, taking young George with them.
Struggling with chronic illness and personal loss, Mary sought relief in various alternative treatments of the day, including the Graham diet, hydropathy (water therapy), mesmerism and homeopathy, which she studied in depth. The exact nature of her illnesses, and their possible psychosomatic or hysterical (as it was called at that time) nature, is unknown.
Daniel Patterson proved to be unreliable and unfaithful. He ran into financial difficulty and mortgaged Mary's furniture, jewelry and books, but was still unable to keep up the payments on their property in Groton. In 1860 they were forced to vacate. A rented house in Rumney offered shelter for a year or two, but her husband was often away from home.
After the Civil War began in 1861 Mary heard that her son George Glover had run away to join Union Army. In 1862 Daniel Patterson was captured by Confederate soldiers while sightseeing on the battlefield at Bull Run. He escaped a few months later.
In 1862, Mary sought help from Phineas Quimby, a magnetic healer in Portland, Maine, on whom she looked as a living example of a modern practitioner of spiritual healing. Mary initially thought that Quimby possessed an understanding of God's law and was ready to proclaim him as the discoverer of the true nature of the healing done in Bible times.
Mary's health initially improved radically under Quimby's treatment, which included a combination of mental suggestion and what might now be called therapeutic touch. She returned to Quimby not only for treatment but also to learn more about his methods. She spent hours discussing and exchanging ideas with him.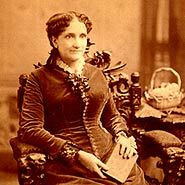 Mary was grateful for the restored health Quimby gave her. From that time until her discovery of Christian Science in 1866, Mary was apparently under the impression that the true mental healing she had sought for so long was represented by Quimby's method.
Quimby, however, believed that he was the healer of disease, that some curative, magnetic fluid was conveyed from himself to his patients. In time, Mary concluded that Quimby's technique depended largely on his vigorous personality and his training in hypnosis rather than on some divine principle.
In 1862 and in 1864 Mary wrote down her impressions of his system and turned over her writings about his work to him. In view of their collaboration, she signed Quimby's name to these manuscripts, and this gave rise after Quimby's death in 1866 to the claim that Mary's discovery of Christian Science came from those manuscripts.
In 1864 the Patterson's landed in Swampscott, Massachusetts, on the outskirts of the city of Lynn, where Patterson opened a dental practice. They occupied a second-floor apartment on Paradise Road. Mary's health was now good and she took an active part in life once more, not only writing for the Lynn newspapers but also attending church and going out into society.
On February 1, 1866, a severe fall on an icy sidewalk in Lynn, Massachusetts left Mary in bed in critical condition with no hope for her recovery. However, Mary's attending physician, homeopath Alvin M. Cushing, later testified under oath that he "did not at any time declare, or believe, that there was no hope for Mrs. Patterson's recovery, or that she was in critical condition."
On February 4, Mary asked for her Bible, and while reading an account of Jesus' healing, declared herself suddenly well. She referred to this as the moment she discovered Christian Science. She could not explain to others what had happened, but she knew it was the result of what she had read in the Bible. Her conviction grew in the coming weeks and months as setbacks were met with even stronger proofs of spiritual healing.
Daniel Patterson abandoned Mary in the summer of 1866, and after years of living apart, she divorced him in 1873 on grounds of desertion. Mary could have then gone to the home of her sister, Abigail Tilton, but only if she would forsake her unconventional religious convictions, and this Mary was determined not to do.
She chose poverty rather than ease, and now began a life of involuntary wandering from one boarding place to another, the life of a student searching the Scriptures; sometimes loved and appreciated, more often misunderstood; healing the sick, and relentlessly seeking to understand the power that had healed her.
At first, she may have thought that the world would instantly grasp this good news, as eagerly as she had, but she was soon to learn that the world was not ready to accept Christian Science. She had experienced a profound moment of spiritual clarity, but it was only a beginning. She was nearly forty-five years old, impoverished, frail and alone.
Intensifying her study of the Bible, especially the healings of Jesus, from 1867 through 1870 she made voluminous notes. The development of her thought is traced in these hundreds of pages. The discoveries that were emerging would, in time, produce the sermons, classroom courses and published writings that would make her one of the most admired and debated women of her day.
Convinced by her own study of the Bible and through experimentation, Mary claimed to have found healing power that could cure illness without drugs, hygiene and medicine - Jesus did not use these methods for healing. She came to believe that this healing method was based on scientific principles and could be taught to others. In 1867 she taught her first student, Hiram Crafts, and he was soon able to set up as a mental healer.
Mary became well known as a healer, and first-hand accounts survive claiming that miracles occurred similar to miracles performed by Jesus. In 1868 Mary was called to heal Mary Gale in Manchester, New Hampshire, who was dying of pneumonia. The doctors in attendance informed Mary that there is no hope for the patient. Mary cured the woman, and one of the doctors urged her to write a book about her system of healing.
In 1870 Mary settled in the Lynn, Massachusetts area, where she lived for 12 years, often changing residence. She began teaching classes on Christian Science and maintained a healing practice. Each class of a handful of students received a three-week course of twelve lessons, which prepared them to heal themselves and others.
Science and Health
By early 1872, after nine years of intensive scriptural study, healing activity and teaching, she was ready to put teaching aside and spend the next three years writing what she called the textbook of Christian Science. The manuscript was first titled The Science of Life, but when the book was published in 1875, it was titled Science and Health.
Science and Health is a 700-page book detailing her discovery of Christian Science, her system of healing, and her commentary on the Scriptures. It is the focal point for the expression of her ideas. In this book, she explained what she understood to be the 'science' behind Jesus' healing method. The last chapter entitled 'Fruitage' contains testimonies of people who claimed to have been healed by reading her book.
In 1876 Mary healed Asa Gilbert Eddy of a heart condition. He studied with her and became a Christian Science practitioner within three weeks. In 1877 she married Asa Gilbert Eddy, gaining her famous name. Mary began to lecture in Boston before audiences growing ever larger and more appreciative.
Disappointed that existing Christian churches would not embrace her discovery, Mary Baker Eddy devoted the rest of her life to the establishment of the church, writing its bylaws, The Manual of the Mother Church, and revising Science and Health. While Eddy was a highly controversial religious leader, author, and lecturer, thousands of people flocked to her teachings.
In 1879 she secured a charter for the Church of Christ, Scientist, established "to commemorate the word and works of our Master, which should reinstate primitive Christianity and its lost element of healing," with Mary Baker Eddy appointed pastor.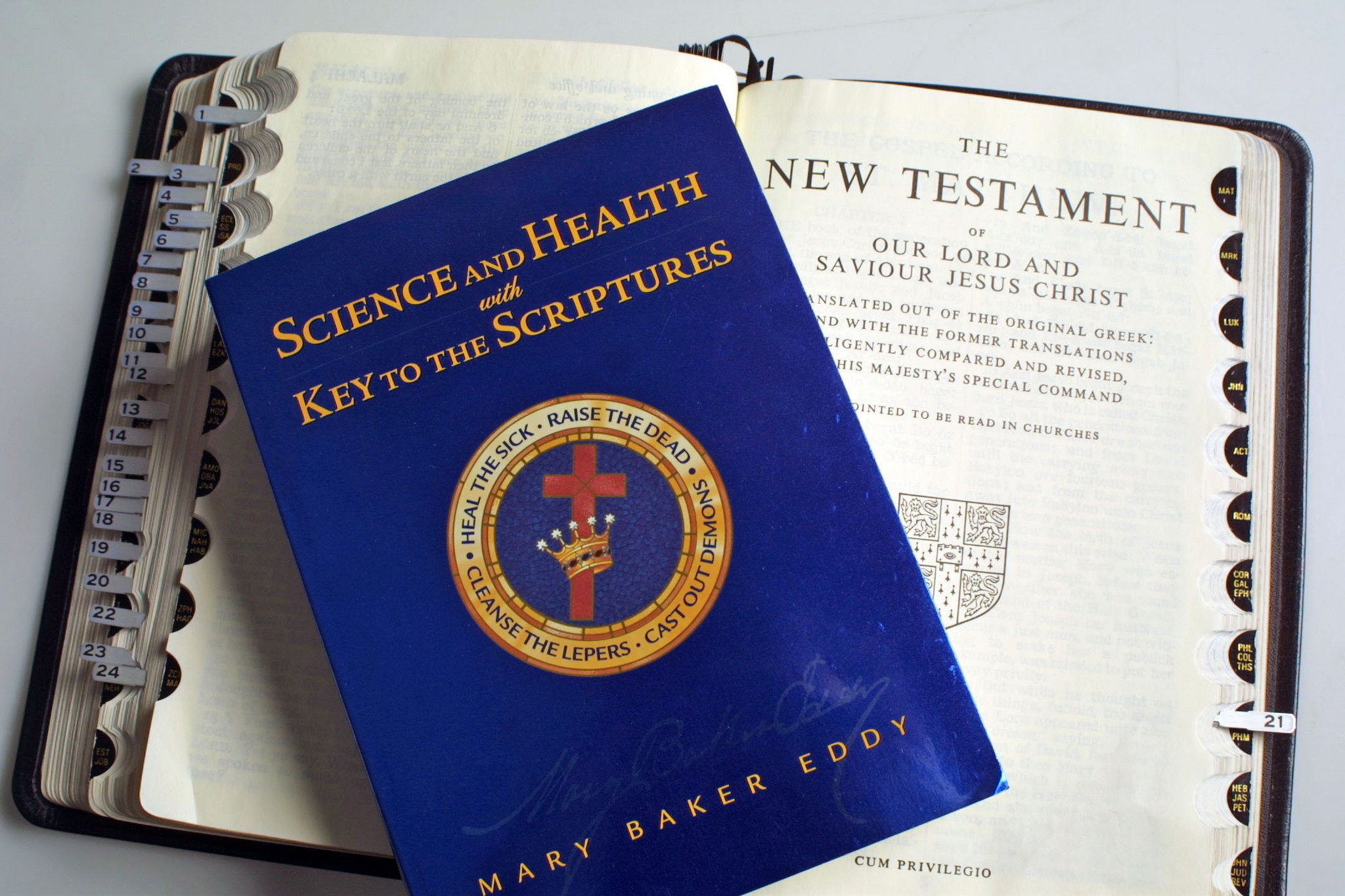 In 1881 she obtained a charter for the Massachusetts Metaphysical College with Eddy as its president and virtually its only teacher. The first sessions were conducted in Lynn. In 1882 the Eddy's moved to Boston and reopened the College. What had begun in 1867 as one student alone with the teacher expanded to classrooms full of students.
Asa Gilbert Eddy died on June 3, 1882, in Boston.
The five-story brownstone townhouse in Boston's Back Bay which Mary Baker Eddy purchased in 1882 a for $40,000 (nearly $740,000 in today's dollars) is a clear indicator of how Eddy, at age 66, had achieved financial stability. From this home, she oversaw activities, taught at her college and preached at her church from 1887 to 1889.
At the Massachusetts Metaphysical College Eddy taught courses on spiritual healing to 800 students between the years 1882 and 1889, then authorized these students to list themselves as Christian Science Practitioners in the church's periodical, The Christian Science Journal. These students spread across the country practicing healing and teaching others.
In 1887 Eddy published Rudiments and Rules of Divine Science, which answered some of the most commonly asked questions about Christian Science and how it heals. As teacher, author, and preacher, Eddy was well established as the leader of the burgeoning Christian Science movement.
Eddy had located her son George Glover in Minnesota in 1879, and upon her request had come to Boston to visit her, but he did not seem open to Christian Science teaching. In 1887 he came to see his mother again, this time bringing his children, whom Eddy presented to the congregation of The Mother Church.
George Glover soon returned to the West, and Mrs. Eddy, looking for someone to help her in her immediate surroundings, decided to adopt as her son Dr. Ebenezer Johnson Foster, a former physician. Foster had become interested in Christian Science, had received instruction in the college, and resided with other students in Eddy's household.
Late Years
By the end of 1889, Mary Baker Eddy had dissolved her college and disorganized her church and moved to Concord, New Hampshire to complete a major new revision of Science and Health, which would appear in over 400 separate printings and undergo six major revisions during her lifetime. This landmark revision would be the fiftieth edition, issued in January 1891. This was followed by a short volume, Retrospection and Introspection, an account of the meaning of her own life and work.
In 1891, after living for two years in a leased house in downtown Concord, Mary Baker Eddy was seeking privacy, peace and quiet. She found what she was looking for in a more secluded house on Pleasant Street at the outskirts of the city. She purchased it, remodeled it to accommodate herself and her growing household, and named it Pleasant View. In June 1892 she moved in.
During the following years Eddy was fine-tuning the organization of the Christian Science church, supervising the various means she had founded for placing her discovery before the public, revising her writings to make her meaning clearer, keeping in close touch with her students who occupied positions of trust, and discouraging any personal adulation the beneficiaries of Christian Science might be inclined to place upon her.
Under her leadership, with the Christian Science Board of Directors responsible for its day-to-day activities, the church was reorganized as The Mother Church, The First Church of Christ, Scientist, in Boston, Massachusetts. Local churches were to be branches of The Mother Church. Today there are branch churches in countries around the world.
The Original Mother Church, built in 1894, is at the heart of the Christian Science Plaza in Back Bay in Boston. However, it was only designed for a capacity of 1,000 people, which it soon reached. In the early years, Eddy served as pastor, and she was succeeded by several other individuals. In 1906 a large domed extension was completed, providing seating for approximately 3,000.
In 1895, Mary Baker Eddy ordained the Bible and Science and Health as the pastor of The Church of Christ, Scientist. Sunday services are centered around two lay people reading passages selected from the Bible and Science and Health. Selections from these books would comprise Lesson-Sermons on twenty-six subjects, a list drawn up by Eddy after lengthy consideration.
In 1897 Mary Baker Eddy published Miscellaneous Writings 1883-1896. She believed that this collection of writings was so important, that she requested students of her works spend the next year thoroughly reading it. The diverse articles, addresses, letters and poems are based on the author's own experiences in putting her system of healing into practice. Also in that year, she broke all ties with her adopted son, Ebenezer Foster Eddy.
In January 1908 Eddy moved from Concord, New Hampshire, to Chestnut Hill, Massachusetts, a wealthy New England village located six miles west of downtown Boston. In the last days of November 1910, she was contending with the effects of a severe cold. On December 1 she went for her normal daily carriage ride. When she returned she retired to the chaise in her study. After a while, she called for a pad of paper and pencil, and wrote: "God is my Life."
Mary Baker Eddy died on the evening of December 3, 1910, at her home at age 89. She was buried on December 8, 1910, at Mount Auburn Cemetery in Cambridge, Massachusetts, which is now marked by a circle of columns overlooking a small pond. At the time of her passing, she was a household name.
Today, almost 1,700 Christian Science churches are active in 76 countries throughout the world. People from all walks of life continue to practice this religion and use the system of health that Eddy codified more than a century ago.
* © National Women's History Project | P.O. Box 469, Santa Rosa, CA 95402
** SOURCES Mary Baker Eddy, Library,Wikipedia: Mary Baker Eddy,Longyear Museum: Mary Baker Eddy,A Biographical Sketch: Mary Baker Eddy