"AGE IS JUST A NUMBER!" Lyn Slater
|
author/source:
Lyvia Feraco
Our goal with this series is not to give you a scoop but more to give you great evidence on how age is just a number by citing women who age not only beautifully but are still going stronger and stronger as years go by. These girls are on fire and don't seem to let age, time or anything getting in the way of living their lives to the fullest! #Herself360
Lyn Slater became an Accidental Icon at the Age of 64.
Lyn Slater became famous after she was spotted by paparazzi near the Fashion Week Center at Lincoln Center, dressed and looking like a Fashion Icon with all the glam and style.
Lyn is now a cultural influencer with 492K Instagram followers (me included!), a speaker and a model. And because she thinks age isn't a variable when you're getting dressed (what we can or are allowed to wear or not shouldn't be defined by our age) she also launched the #AgeIsNotAVariable.
Lyn Slater about her blog accidentalicon.com: "I started Accidental Icon because I was having trouble finding a fashion blog or magazine that offered an urban, modern, intellectual aesthetic but also spoke to women who live what I call "interesting but ordinary lives" in cities. Women (like me) who are not famous or celebrities but are smart, creative, fashion-forward, fit, thoughtful, engaged, related and most importantly clear and comfortable with who they are…"
Yes, clothes should be the expression of who we are in our true essence, and therefore should allow us to express and embrace our complexity, moods, needs and more, depending on the day, the event or no reason at all!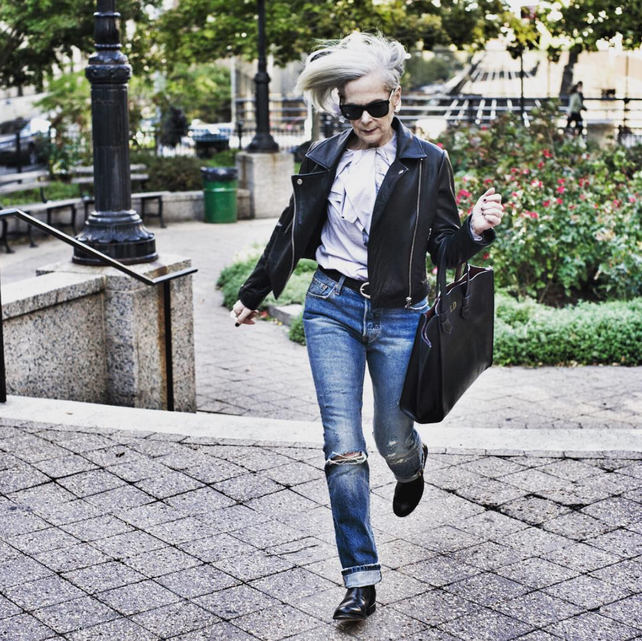 Aging doesn't mean we should stop having fun and interest in how we want to look like or feel like in what we wear. We should still be taken seriously as a key market segment for the textile industry instead of feeling like we are becoming more and more invisible as we get old. So, for that, BIG SHOUT OUT for the Accidental Icon and influencer Lyn Slater and her strong statement to the world! Age is just a number and not a variable to our feminity!