Demystifying The Vision
|
author/source:
Emily Falcigno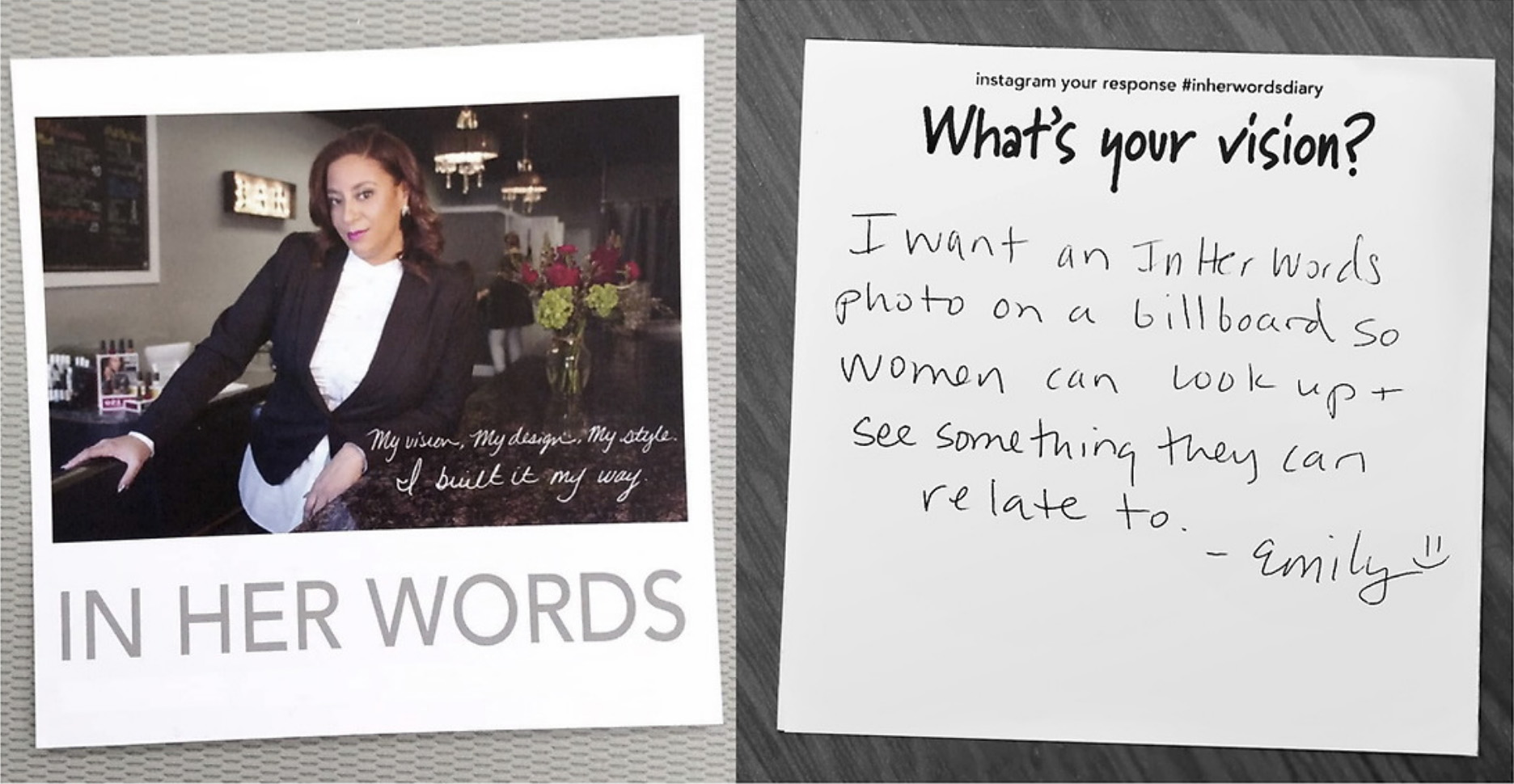 February 2018. I ask

ed my In Her Words Diary community

"

What

'

s Your Vision?

"

on the back of our first postcard. On the front is Isa Beltre, owner of Plush Nail & Beauty Bar. She t

old

me about

how she had

a vision for her

beauty bar

and follow

ed

through with it no matter what push back she receive

d

. The response I wr

o

te

wa

s a pipe dream.

"

I want In Her Words Diary photos on billboards, so women can look into the sky and see something they can relate to.

"

Gotta aim high, right?
Around this time, I met a graphic designer at a friend's party. We chatted about women's projects and solutions for the head-stepping design industry. I've been checking in with her, and she's building the business of her dreams. "Contraire is a strategic design studio working with companies who act on purpose and possibility, in pursuit of a bold vision. Our deliberately different approach helps them provoke change and inspire more thoughtful interaction."
DAMN. Perfect for In Her Words Diary right?? In pipe dream #114, I envision working with her.
September 2018. I get an email about buying time on a billboard for $300. Guess where this billboard is people. Guess. Times flipping Square. In New York City. Yes, thee Times Square. I said YES right away. And guess who I put on the billboard? Isa Beltre. She came to see it. It was magical.
But it didn't happen with pure woo-woo magic. The billboard wouldn't have happened without a clear vision, a no-brainer reception of the opportunity, and an implemented plan to follow through. Those painstaking iterations of graphic design work, I did myself. Yes, I can do graphic design too, but it's not my zone of genius. It takes a lot of energy out of me.
I will get woo woo for a minute because I am totally convinced I have a direct connection with the universe that I haven't tapped into nearly enough. In 1996, in the 2 Yankees games I attended, my pinstripe guys came back in the last inning from 7+ run deficit. I was praying for them at both games. Coincidence? I think not. By 2003 I was living in Boston and getting so sick of hearing "Thahh Yaaankees WINNN!" that I started rooting for the Red Sox in 2004. I put all my spiritual energy into them winning. I would talk to the players through the TV. Same with the Cubs when they won their comeback series. Jus' Sayin'. Believe what you want to believe.
That's the thing, You gotta believe what you want to believe. You ask. You get real specific. You feel it. The universe puts runners on every base and sets you up to hit a grand slam.
How do you make a vision?
Pick something that you really want. Not something you think you want, or you think you can get because you feel you

'

re not worth your big grand desire. It has to be something you really want. Go BIG.


Now. How do you learn? Are you visual, musical? Make collages, playlists, write

it down

. (I really wanted a billboard.

Serendipity led me to

a postcard with a blank billboard on it

. I

put it on my office wall, so it was front and center every day. I felt the feeling, I scoped out the costs of billboards. I was going to get one no matter HOW it happened.)

Here

'

s the trick to making a vision: You must let go of the HOW. Be flexible. Be open to receiving the HOW when it presents itself. Right now I

'

m envisioning myself making $120k in 2020. I have a playlist with all positive songs about money, so they get stuck in my head. The other day in the bathroom, it felt like I had a huge tag inside my shirt (not my pants, not my pockets - my shirt). I pulled out a ten-dollar bill. Thanks, Universe! Also: Say Thank You.


Are you a perfectionist or a control freak? Drop it. There

'

s no way you can control everything.

Do a test: L

et go of the HOW

. H

ow does that feel? It

'

s a load off, right? Visions let you off the hook for the

H

ow. Let the universe work on aligning the elements, the people, the timing. Just make sure you have your catcher's mitt ready so you can catch that ball when it lands in your lap.

You have to trust your vision. Stay true to it, even if it morphs. Believe in it, even if it

'

s in the back of your mind two years later when it

'

s not a priority. Keep that belief in the back of your mind. You know what it feels like because it is already out there for you. Just like money is out there - in abundance.
Listen, I'm not going to get into how our energy existed before we were born and the universe knows us better than we know ourselves. Or that your life path is all predestined. I'm theorizing. But I do know what works.
My Vision Times Square, November 2nd, 2019
For you logical thinkers… here's how this magic works.
You put something in your brain. You get this vision in your head. You put it on repeat

:

day after day. What this does is it sets up your filter. It takes away all the other overwhelming possibilities and focuses in on what you want. You start to see opportunities all around you.

When you tell people about your vision, they start to believe in you. You also give them something to share with their networks. This is one reason why being specific is so

helpful. People can

'

t keep much in their heads. Make it easy for them.


When you believe in your vision, you give off an energy of determination. The right people love to help you succeed and they will help you.
December 2019. My visions for 2020 are:
Make more money than I ever have.

Have dating photo pop-ups for singles

.
H

ost

my

business shower.
Somehow. Somewhere. These things will happen. I am resting my faith in the universe.
I was talking about my business shower the other day, and guess who caught wind of it? Remember the designer? Her name is Courtney Schwabe. She wants to help. So we made a business shower planning date, during which, she shyly says, "I got you some gifts."
'Um, it's not my shower yet, but ok,' I thought as I blushed.
She got me inspirational books because get this, she wants to take me on as her first passion project client. Pro bono. To collaborate with me to design my In Her Words Diary project; my Dating & Branding photography presence; annnnd to help make favors for the shower.
What the???
YES PLEASE. (She even gave me an out, and I was like, "Oh hell no. We're doing this.")
Someone Pinch Me Please. I am over the moon!
This is REAL, people. Here's her official statement:
"We approached Emily about collaboration because of her bold vision and unapologetic style. Her work focuses on not only presenting people in an authentic manner but also helps them feel the confidence to do so. We believe Emily's work and concept have immense potential and with a little help visually showcasing it to the world, she'll be a force to be reckoned with."
Here's the other reason you get specific. Focus on what your vision is for your life, or your business, or your family vacation. Be proud of it. The Universe will see you. People who have visions that align with your vision will see you. And it will be a no-brainer for them to help you.
Now, I can't wait to hear: What's Your Vision?
Bio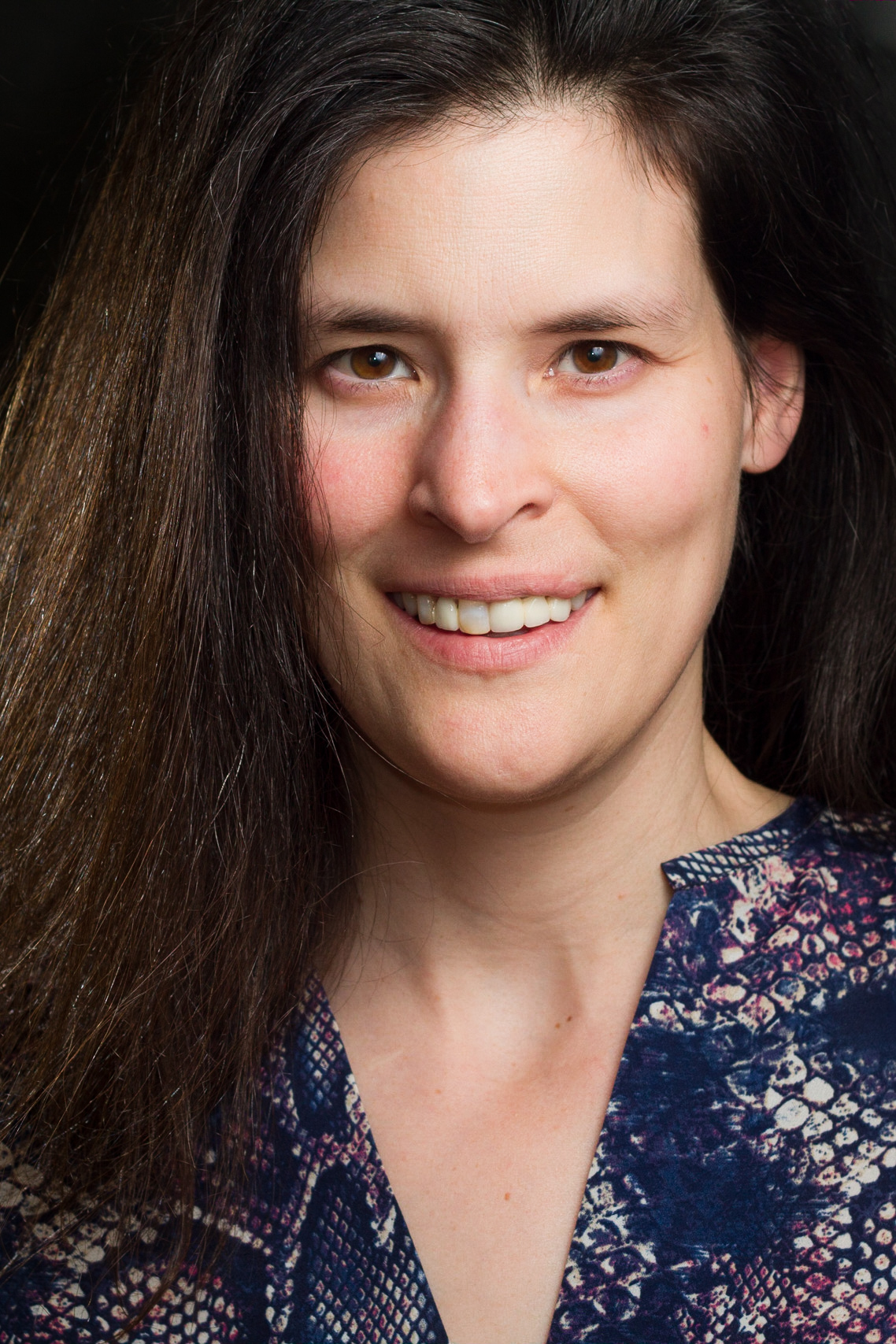 Emily Falcigno is the creator of the collaborative photo series, In Her Words Diary. She illustrates women's everyday battles, supportive gestures, and triumphs to provoke eye rolls, head nods and high fives so people can have honest conversations about gender equality.
Stay abreast with us at www.InHerWordsDiary.com. Please participate on Instagram @InHerWordsDiary.
Adopting the bold, compassionate values of In Her Words Diary, Emily is rebranding her parent company, FalcignoFoto. She is making personality portraits for Savvy Singles and Bold Professionals who want to start better conversations so they can find their ideal match and clients, faster.
Emily will be hosting Vision Board workshops in 2020. Stay tuned at: Linktr.ee/FalcignoFoto.