How Bali Healed Me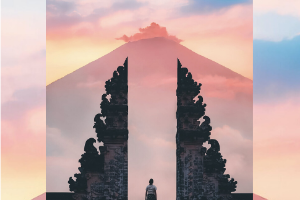 Bali Post #1: Physical & Emotional Healing
Bali…where to begin. In March I found myself at a major crossroads in my life. Everything seemed to have turned upside down and I was more lost than ever. I decided it was time to look inward so I booked a meditation retreat in Bali, alone. I know, so "Eat, Pray, Love" of me right? But that actually had nothing to do with my decision to choose Bali over the many other options I came across. My husband was the one to suggest it, he had been there many times and knew what I was going through and what I needed. I had always heard the most incredible things about this magical Island so far away but did not really understand the magnitude of how this trip would affect me…not until now, 6 months later.
I would be leaving my son for 14 days, the longest I'd been away from him was 5 days and THAT was unbearable. I had no idea what to expect or how to feel knowing I was going to be on an island where I knew no one, alone with my thoughts for 14 days. My friends and family all told me I was "brave" for going on this journey on my own. I had no real plans or agenda and for anyone who knows me, I am a PLANNER! This was the beginning of the journey for me to be honest, allowing myself to be vulnerable, not knowing what was next. See for me, the root of my anxiety and frustration comes from not knowing things. I like to know exactly what is happening and when. I start packing a week before every trip, I have to do lists all over my house. I am a control freak. Many of the issues that arise at home stem from this, I am intense. I finally realized in order to truly change the path of my life I needed to start with me.
The moment I stepped off the plane I felt it, what everyone talks about, this immediate feeling of peace. I knew then in that moment that that is exactly where I was meant to be. This takes me directly to the point of this post, HEALING. There is so much I have to share about Bali but this specific topic has come full circle and is extremely relevant in my life right now so it felt right to start here…
There were a few very specific life-changing experiences in the healing process that I feel compelled to share and highly recommend doing if you ever find yourself there.
I stayed in Ubud while I was in Bali which is where all of these are located but any of them are worth the drive if you are staying elsewhere. What you will read below are my personal experiences, everyone is different but what I do believe in is energy and how it affects each and every one of us at different times in our lives. I hope my experiences will inspire someone on their journey to find what they are seeking in themselves:
My Balinese Healing Session:
As I laid down on the massage table I honestly had NO clue what I was getting myself in to nor was I prepared for what was about to happen. The healer, a little Balinese man came to me and said: "I will do massage and try to release blockages in energy". I started on my stomach and he begins on my left leg. The moment he placed his hands on my calf I began to hysterically cry. He then said, "You have a lot of anger, I will try to release it." He was spot on, I couldn't believe it, it was like an out of body experience. I really was holding on to so much anger and resentment, how could he know this? Once I finally stopped crying he moved on to my upper back, I cried again. I had serious blockage in my back, he worked through the knots and then all of a sudden made this gesture almost like he was picking something up and breathing it in, like John Coffey in The Green Mile, I kid you not! He coughed a lot after and then all of a sudden, I felt calm and I got all tingly. He got to my heart and said he sensed "Pain and Fear". Everything he sensed and said was exactly how I was feeling at that time, the energy I was carrying with me. How can someone you have never met, sense your pain, your fears, those emotions you are obviously so desperately trying to bury? Even I wasn't aware of some of it until I had to confront it. As we finished, my entire body felt light as a feather, numb even, and then it began to rain, pour actually. It was almost as if the Island was cleansing my soul, my body, it was one of the most intense and beautiful experiences of my life. Once my session was over I had time to be with my own thoughts and I felt a sense of… peace.
Unication Bodywork:
I was a little skeptical about this at first. One of the girls I befriended on our retreat went to see this man named Lux who does bodywork to move energy and heal the mind, body, and spirit. After the incredible experience, I had the day before with the Balinese healer I thought why the fuck not, I'm here and I can use all the healing I can get.
As I arrived at Lux's studio, an overwhelming feeling of panic set in. I was greeted by an older white American gentleman (wtf?). Anyway, I joined him outside of his home and he began to explain the session to me and how it will work. We talked about life and humanity, how we cannot control war or rape, how sadness and pain are part of being human and it's how we choose to process these emotions that we will find peace. I was asked to write down 3 things I wanted to work on, 3 things I wanted to change, and 3 things I wanted to find answers to. This process was intense, it forces you to face your demons head-on. Once I was finished he read my answers and we discussed them. He then took me inside his studio. It was a separate house in the backyard with lots of big windows and filled with Balinese trinkets and statues. There were bird cages filled with love birds and a desk piled with papers. I was asked to undress to my underwear and lay flat on the table like in massage. As he began the work he talked me through my answers, he moved energy around in my body which brought so many issues to the surface. I cried, laughed, then cried some more. He asked me questions about what he was sensing and asked me to respond with "I want to…". Whether it was to forgive someone, change a pattern or be more spiritual, it all came out. It was like getting a massage, a stretch, and therapy session all in one! Never in my life have I experienced something like this before, it was truly LIFE CHANGING. When I left Lux I felt an overwhelming sense of relief, of happiness and the ability to begin the process of becoming the person I wanted to be if I used the tools he gave me. I realized in this moment that the universe is here to support us. I have never been a super spiritual person and still sometimes struggle to be, but looking back on my experience I realize that allowing oneself to let go and be open to new experiences and beliefs is something we all should try more often than we do. Fear comes from within, opening your heart to optimism and understanding humanity as a whole is something we take for granted. I still struggle with this but thinking back to this very special moment in my life allows me to remember, to push forward and get out of the weeds.
The practice of Unication is about creating Unity with yourself, others and the universe. It's a truly unique and effective practice and I highly highly recommend looking Lux up if ever you find yourself in Bali. Often there are things we don't know about ourselves until faced with the opportunity to look within. Note, he only takes 2 – 3 people per day, the process is very long so schedule at least 4 hours, there is no real time constraint here, some people need more healing than others.
Click here for more information on how you can find and contact him:
What's very interesting about this Island is that it brings people together from all walks of life. I met the most amazing group of women while on my journey and thanks to them I was able to truly get the most from this beautiful place. We all went for different reasons but we were brought together for a reason and that I cannot explain. All I can say is that to this day we still have a beautiful sisterhood with one another and a "Bali Family" WhatsApp chain we still communicate on. I love them for what they taught me, I love them for being kind and I love them for sharing in the most vulnerable moment in my life and not judging me but rather loving me and bringing out things in me that I may never have faced myself.
I know not everyone will have the chance to visit Bali so I will share with you the most important lesson I learned, we ALWAYS have a choice. Every. Single. Day. Blue shirt or white shirt, burger or salad, left or right, love or hate. It is truly as simple as that. You can look within yourself and decide if you will choose to hold on to that anger or if you will choose to let it go and smile. The key to happiness is within, some of us just need that extra boost or reminder. So maybe go to a yoga class or download a meditation app…every kind thing you do for your soul the universe will take notice.
Suksama (Thank you) Bali!!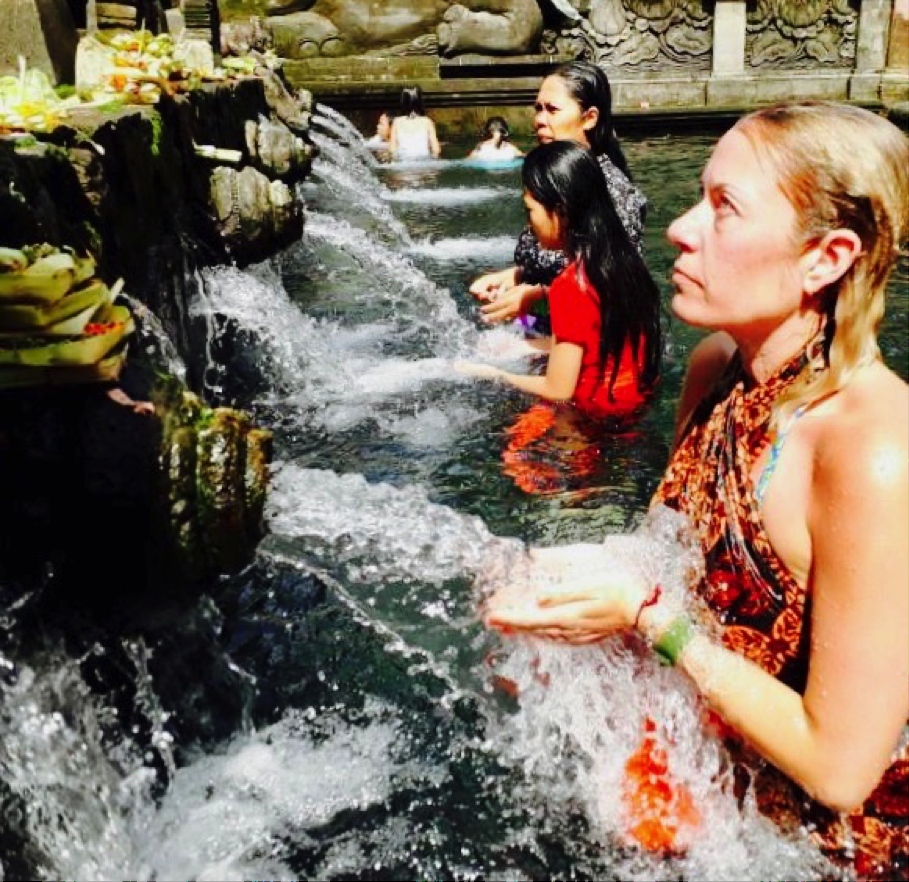 I was blessed to be able to cleanse my heart and soul at the
Tirta Empul Temple. It is not only one of the most important temples
but also one of the most famous, because of its holy water that is
used for purification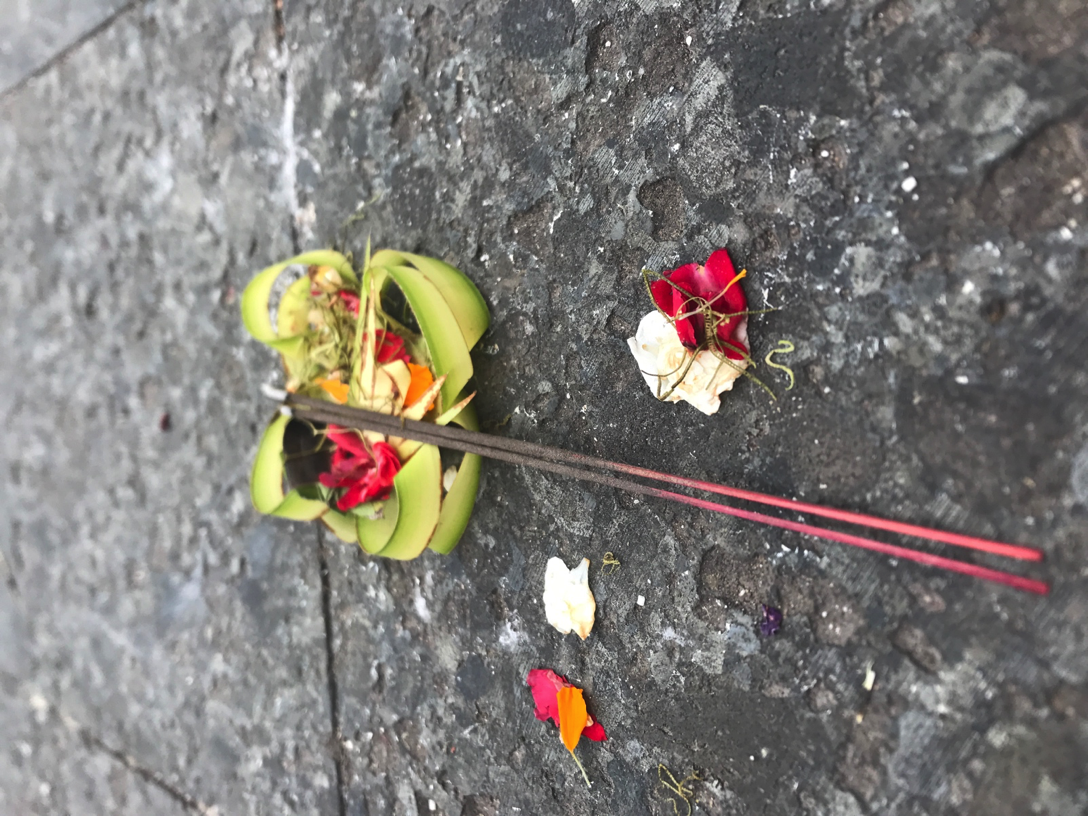 Canang Sari: Offerings to the Gods are an integral part of daily living for the Balinese,
the majority of whom are Hindu. Offerings or blessings are made very simply but with reverence
on a daily basis. Placed throughout the yard around the home, in simple thankfulness.
This tradition truly inspired me and reminded me to be thankful for all that I am and have.
Photo credit: Erin Moye, Stijn Dijkstra @Pexels