National Women's History Month - Loretta Ross and Sheriff Andrea J Cabral, J.D.
|
author/source:
Renée Greene
March is National Women's History Month
In 1987 the US Congress designated March as National Women's History Month. This creates a special opportunity in our schools, our workplaces, and our communities to recognize and celebrate the often-overlooked achievements of American women. Each year there is a special Theme and women whose lives exemplify that theme are selected as National Honorees.

NEVERTHELESS, SHE PERSISTED:
Honoring Women Who Fight All Forms of Discrimination Against Women
National Women's History Project's 2018 Honoree
Loretta Ross has dedicated her career to feminist issues with a focus on women of color. She helped create the theory of Reproductive Justice, adding a human rights framework to include everyone in reproductive rights issues. Ross is a rape survivor and survivor of sterilization abuse.
Loretta J. Ross launched her feminist career in the 1970s as director of the D.C. Rape Crisis Center, one of the first centers primarily run by and for women of color. She launched the Women of Color Program for the National Organization for Women (NOW) in the 1980s and was the national program director of the National Black Women's Health Project. She was the Program Research Director at the Center for Democratic Renewal/National Anti-Klan Network where she led projects researching hate groups, and working against all forms of bigotry. She founded and led the National Center for Human Rights Education (NCHRE) from 1996-2004.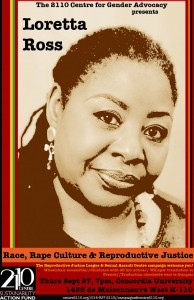 In 1994 Ross co-created the theory of Reproductive Justice. She was National Co-Director of the April 25th, 2004, March for Women's Lives in Washington D.C., the largest protest march in U.S. history at that time with 1.15 million participants. Ross was the National Coordinator of the SisterSong Women of Color Reproductive Justice Collective from 2005-2012 where she combined a self-help approach to internalized oppression with a human rights approach to structural inequity.
Ms. Ross has appeared on numerous media outlets including CNN, BET, the New York Times, Time Magazine, The Los Angeles Times, and the Washington Post, among others. She co-authored Undivided Rights: Women of Color Organize for Reproductive Justice in 2004. She released two books in 2017, Radical Reproductive Justice and Reproductive Justice: An Introduction, co-written with Rickie Solinger. Her next book, Calling In the Calling Out Culture, is scheduled for publication in 2018.
She is a Visiting Professor teaching courses on white supremacy, reproductive justice, and calling in practices at Hampshire College for the 2017-2018 academic year. Loretta Ross holds a B.A. from Agnes Scott College in Women's Studies.
Sheriff Andrea J. Cabral, J.D.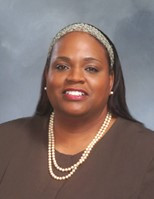 Former Public Safety Secretary Andrea Cabral, whose 30-year career in public service includes being the first woman to serve as Suffolk County sheriff.
Cabral can be heard regularly as a contributor on WGBH's "Boston Public Radio" with Jim Braude and Margery Eagan and as co-host of "BPR Weekend." She is also a frequent guest on WGBH-TV's "Greater Boston."
Cabral described her view of public service in a 2014 interview with Suffolk University Law School, from which she graduated in 1986.
"You will never be sorry that you took the time to become a public servant," she said.
As public safety secretary under former Gov. Deval Patrick, Cabral oversaw 14 state public safety agencies, including the Massachusetts State Police, the Department of Correction, the Massachusetts Emergency Management Agency, the Parole Board, and the Massachusetts National Guard.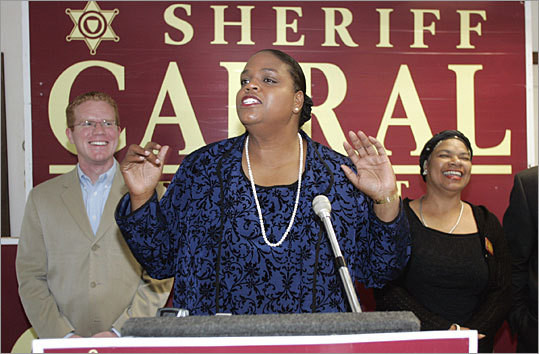 Previously, Cabral, 58, spent a decade as the Suffolk County sheriff, overseeing the county House of Correction, the Suffolk County Jail and the Civil Process Division. Cabral was lauded for reforming prisoner re-entry programs and modernizing the county's correctional facilities.
A past president of the Massachusetts Sheriffs Association, Cabral also worked as a Suffolk County assistant district attorney, where she co-founded and served as chief of the office's first major felony Domestic Violence Unit. During that time, she also served as the senior prosecutor for all civil rights cases and chief of District Court and Community Prosecutions. She authored the state's first continuing legal education manual on domestic violence restraining orders.
Cabral previously worked as an assistant state attorney general and assistant district attorney in Middlesex County. She also worked as the director of the Roxbury District Court Family Violence Project.
A graduate of Boston College, Cabral is an Eisenhower Fellow and served as one of 18 national experts appointed to the Science Advisory Board by former U.S. Attorney General Eric Holder. She is a member of the Advisory Board of the Rappaport Center for Law and Public Policy at Boston College, the editorial board of Massachusetts Lawyers Weekly, and the Governing Board of the Mass Mentoring Partnership.
* © National Women's History Project | P.O. Box 469, Santa Rosa, CA 95402
** Written by MMA Associate Editor Daniel DeMaina, Massachusetts Municipal Association One Winthrop Square, Boston, Massachusetts 02110
(617) 426-7272