Tea, Friends and Fashion
|
author/source:
Lyvia Feraco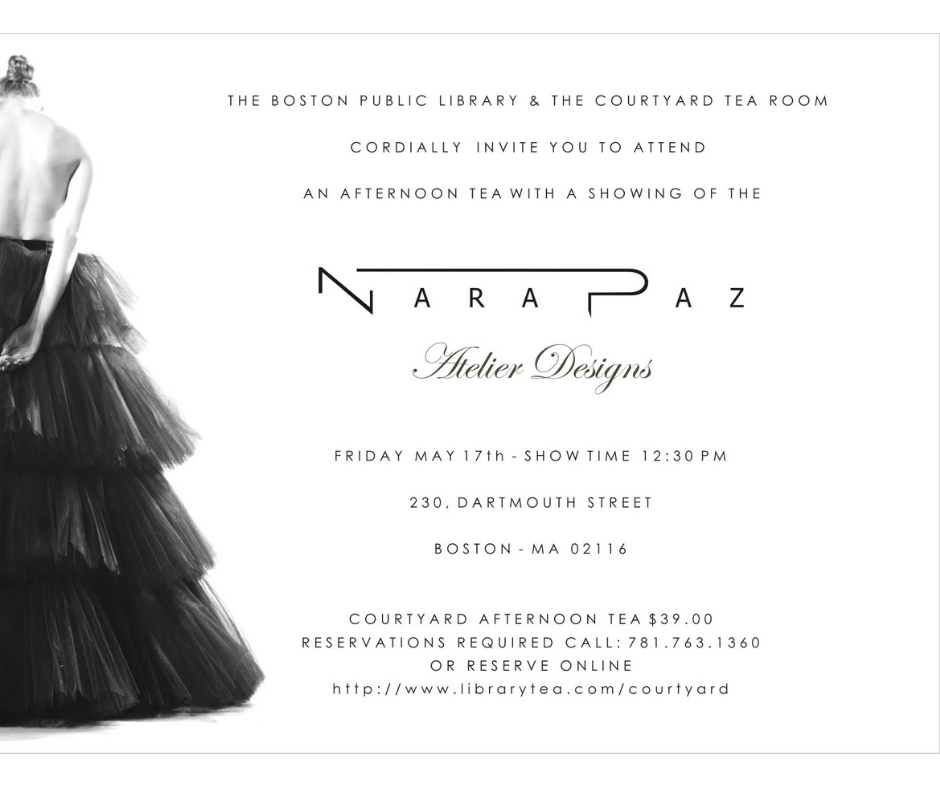 Boston, May 17 in the Heart of Boston's Copley Square in the historic Boston Public Library, Cathie and I sat at our table in the Courtyard Tea Room. It's 11;30 so, for now, we are more curious about food than about the main attraction of this event we signed up for, suggested by Metropolitan Fashionista founder and fashion blogger Helena Martin.
Although, I must say that on our way through the library our curiosity was peaked as we passed by the beautiful Italianate courtyard, the vintage map room lounge, furnished and decorated with vintage maps and then on to the tea room, classic, elegant with a warm and relaxing atmosphere that just makes you want for more.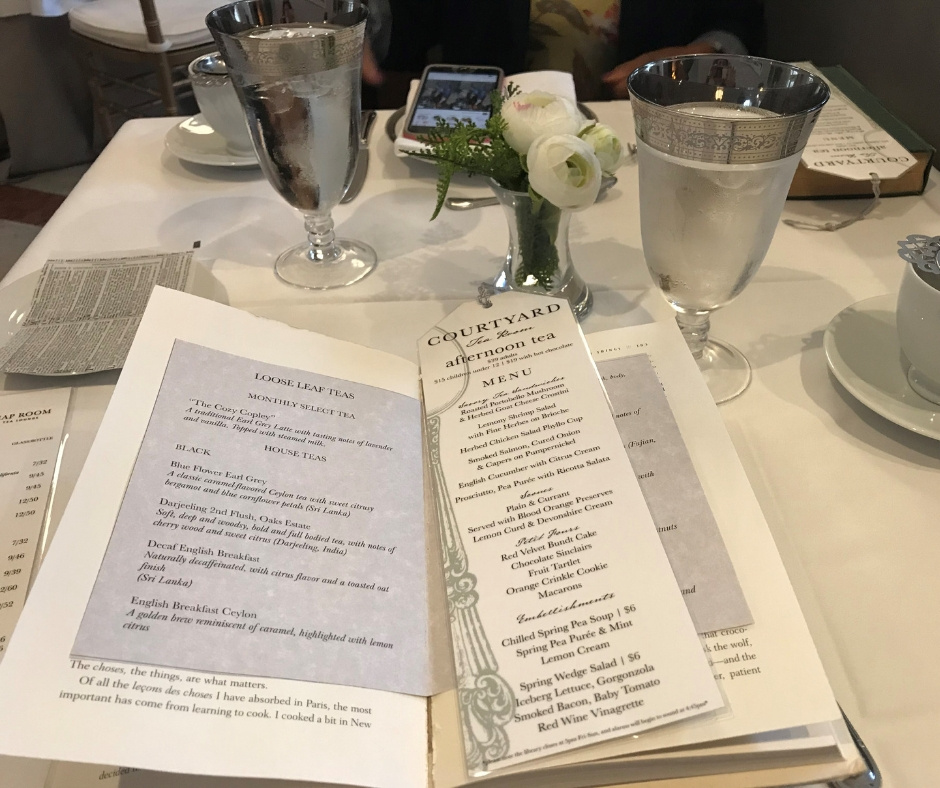 The tea room has high ceilings, white floors and floor-to-ceiling windows inviting the light in and overlooking the courtyard. The menus in the tea room were inserted into actual hardcover, vintage, beautiful books, and the grey and white ensemble of room, linens, furniture and walls all invited a relaxing and enjoyable visit. The food was beautifully presented, and the tea names were inspired by book titles and were as creative as they were delicious.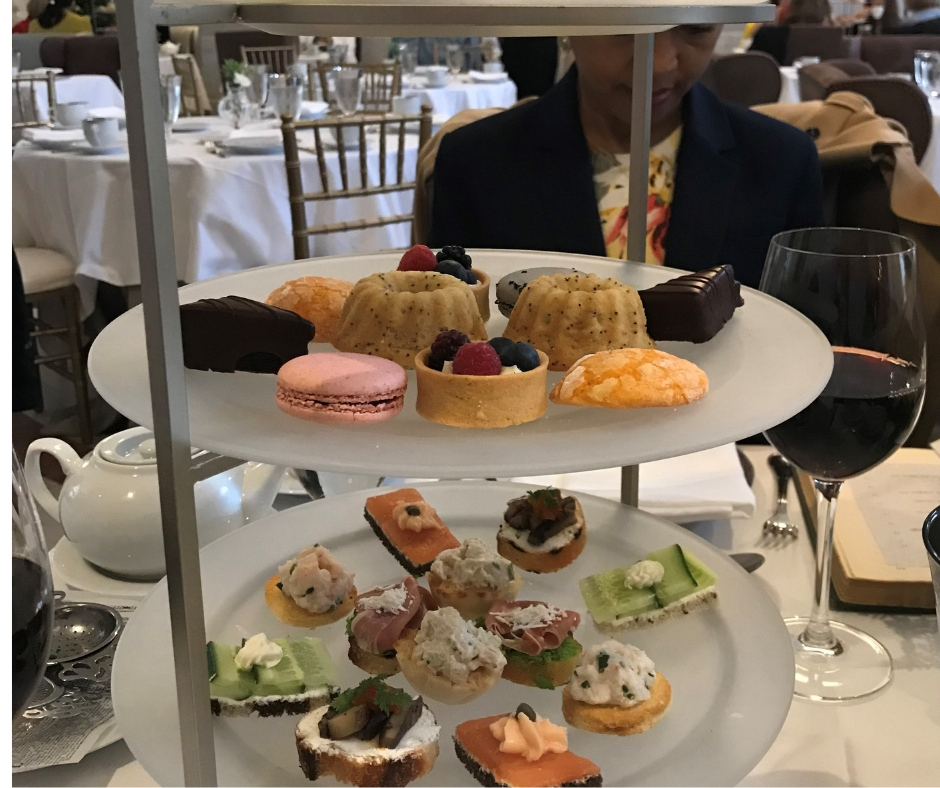 And to top off the lunch, Nara Paz, Fashion Designer presented her sophisticated and beautiful collection of namesakes. Nara, for the last four years, has worked exclusively on custom-made signature tailored coats, dresses, suits, pants, blouses, eveningwear, and ultra-refined couture gowns. Nara showed twenty-four pieces including custom-made couture, evening wear, and ready-to-wear designs.
We were amazed!
About Nara Paz
The designer graduated summa cum laude from Lasell College in Fashion Design & Production and founded the label Nara Paz in 2010. The label is succinctly described as a modern interpretation of classic silhouettes. It includes avant-garde signature-tailored coats, dresses, suits, skirts, blouses, pants, and ultra-refined couture gowns and evening wear.
Nara Paz has received numerous awards during her career including the Lasell Gold Alumni Award, Improper Bostonian Magazine's Best of Boston Local Fashion Designer, and Fashion Group International Boston's Top Five Emerging Designers. She was also honored as Lasell College's Winner of Christy Proctor Rising Star Award and the BMW sponsored New Generation Designer, New Zealand Fashion Week.
The Nara Paz Design House and Atelier are known for outstanding designs with notable attention to detail and quality of craftsmanship. The brand works with the finest couture fabrics available to provide ultimate customer satisfaction.
Nara Paz's line has appeared in many media publications including the New York Times, WWD, Boston Globe, Boston Herald, Improper Bostonian; also in New Zealand and Australia media such as NZ Herald (NZ), New Idea (NZ & Australia), Woman's Day & Women's Weekly (NZ & Australia); Fashion Quarterly (NZ), Next (NZ), Simply You (NZ) and TV3 (NZ). The brand was chosen to be worn by many celebrities on red carpet events such as the Oscars, Grammys, Emmys, Cannes Film Festival, the American CMA Awards.
For more information on the brand:
Nara Paz Design House and Atelier
Tower Office Park, Suite 401
Woburn, MA 01801-2120
Phone number: 617 365-7948
Email: i[email protected]