The Underground Railroad Book Review
|
author/source:
Cathie Briggette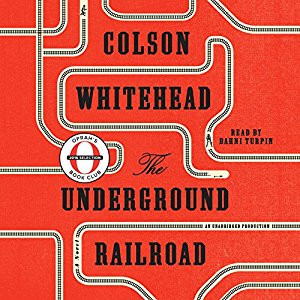 The Underground Railroad
(Pulitzer Prize Winner)
(National Book Award Winner)
(Oprah's Book Club)
By Colson Whitehead
Copywrite 2016 by Colson Whitehead
Published in the US by Doubleday, a division of Penguin Random House LLC, New York www.doubleday.com
LCCN 2016000643(Print)|LCCN 2016004953 (ebook) ISBN 9780385542364(hardcover)
Length 322 Pages Audible: 10 Hours, 44 minutes
I got this book because I remembered reading about Harriet Tubman, and the story of the underground railroad back in the late 70's and was completely engrossed. I got the Audible version because I spend quite a lot of time on the train heading in and out of Boston, and it is my new way to lose myself in another time or land without weighing my bag down any further.
The book is narrated by Bahni Turpin who does an amazing job bringing you back to a cotton plantation in Georgia and bringing Cora to life. This story is about slavery, wanton cruelty, and perseverance. A book that clarifies the horrors of an era so powerfully and raw, a violent truth in our history that, has been hidden and that all of us need to understand, learn and never, ever forget.
I think the Audible version sometimes brings you closer to the feeling the writer wants you to have. I spent many hours with tears in my eyes and my stomach in knots while listening to the perils that Cora went through to get herself to freedom through the underground railroad. Sometimes I had to pull the headphones off my ears, as emotionally, I just couldn't take the horror and violence bestowed on so many different people, for reasons I still cannot fathom. However, I would soon put them back on again, to finish the journey.
This book is full of the realization of the slavery business, and yet shows you the hope of those who continued to pursue their freedom. It brings you into the middle of the lives of those who lived through it, those who helped to get rid of it, and those that lavished in the heinousness of it. This is one of the best books I have read because it made me further understand the horrors of slavery, really understand, the horrors and conditions and the cruelty of man that we have to make sure never happens again. It is a further reference for us all to learn that racism has no place in our society.