Thyme-Roasted Brussels Sprouts with Fresh Cranberries
|
author/source:
France Cevallos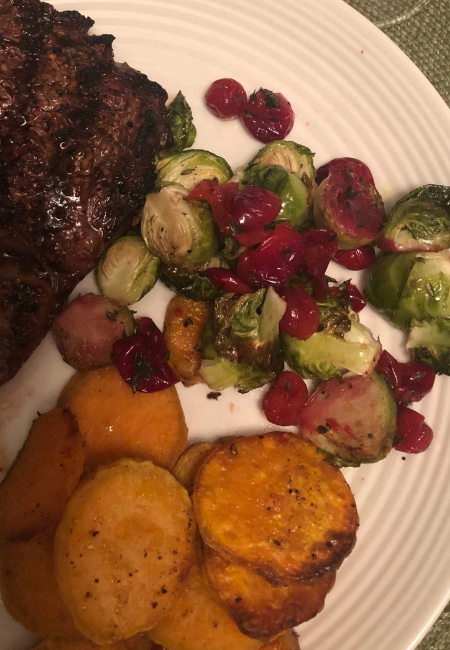 Turn boring Brussels sprouts into a sophisticated side dish by combining earthy thyme, sour cranberries, and sweet maple syrup. This lightly sweetened dish is a great way to highlight delicious fall flavors.
Recipe by France Cevallos
Recipe yields 4 servings
Ingredients:
1 pound Brussels sprouts, trimmed and halved

2 tablespoons olive oil

1 tablespoon minced fresh thyme

salt and ground black pepper to taste

1 cup fresh cranberries

2 tablespoons pure maple syrup
Directions
Preheat the oven to 400 degrees F (200 degrees C). Line a baking sheet with parchment paper.

Place Brussels sprouts in a bowl and toss with olive oil, thyme, salt, and pepper.

Spread out evenly on the baking sheet and roast for 10 minutes. Stir in cranberries. Continue roasting for 10 minutes.

Place sprouts and cranberries in a serving bowl and drizzle with maple syrup. Toss to coat.

Add more maple syrup if you prefer things a little sweeter.
Nutrition Facts Per Serving:
146 calories
protein 4g 8% DV;
carbohydrates 19.9g 6% DV;
fat 7.2g 11% DV;
cholesterol 0mg;
sodium 29.9mg
1% DV. Full Nutrition