Women In History - Jody Adams and Arlene B Mayerson
|
author/source:
Renée Greene
March is National Women's History Month
In 1987 the US Congress designated March as National Women's History Month. This creates a special opportunity in our schools, our workplaces, and our communities to recognize and celebrate the often-overlooked achievements of American women.
Each year there is a special Theme and women whose lives exemplify that theme are selected as National Honorees.

NEVERTHELESS, SHE PERSISTED:
Honoring Women Who Fight All Forms of Discrimination Against Women

National Women's History Project's 2018 Honoree
Arlene B. Mayerson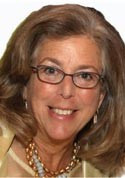 For over 35 years Arlene Mayerson has been a leading attorney in disability rights law, including playing a key role in drafting and negotiating the Americans with Disabilities Act (ADA) and amendments to the Individuals with Disabilities Education Act (IDEA), litigating precedent-setting disability rights cases and teaching disability rights law.
Arlene B. Mayerson has been Directing Attorney of the Disability Rights Education and Defense Fund since 1981. In addition to her behind the scenes role developing language for the provisions of the ADA and its legislative history, Mayerson provided expert testimony before several Congressional committees with jurisdiction over the ADA and filed comments on the Department of Justice ADA regulations for over 500 disability rights organizations. Mayerson has also litigated historic disability rights cases, including precedent for the inclusion of public school children with disabilities in general education classrooms, and the landmark Netflix decision that internet-only businesses are covered by the ADA. She has also provided representation, consultation to counsel, and coordination of amicus briefs on key disability rights cases before the U.S. Supreme Court.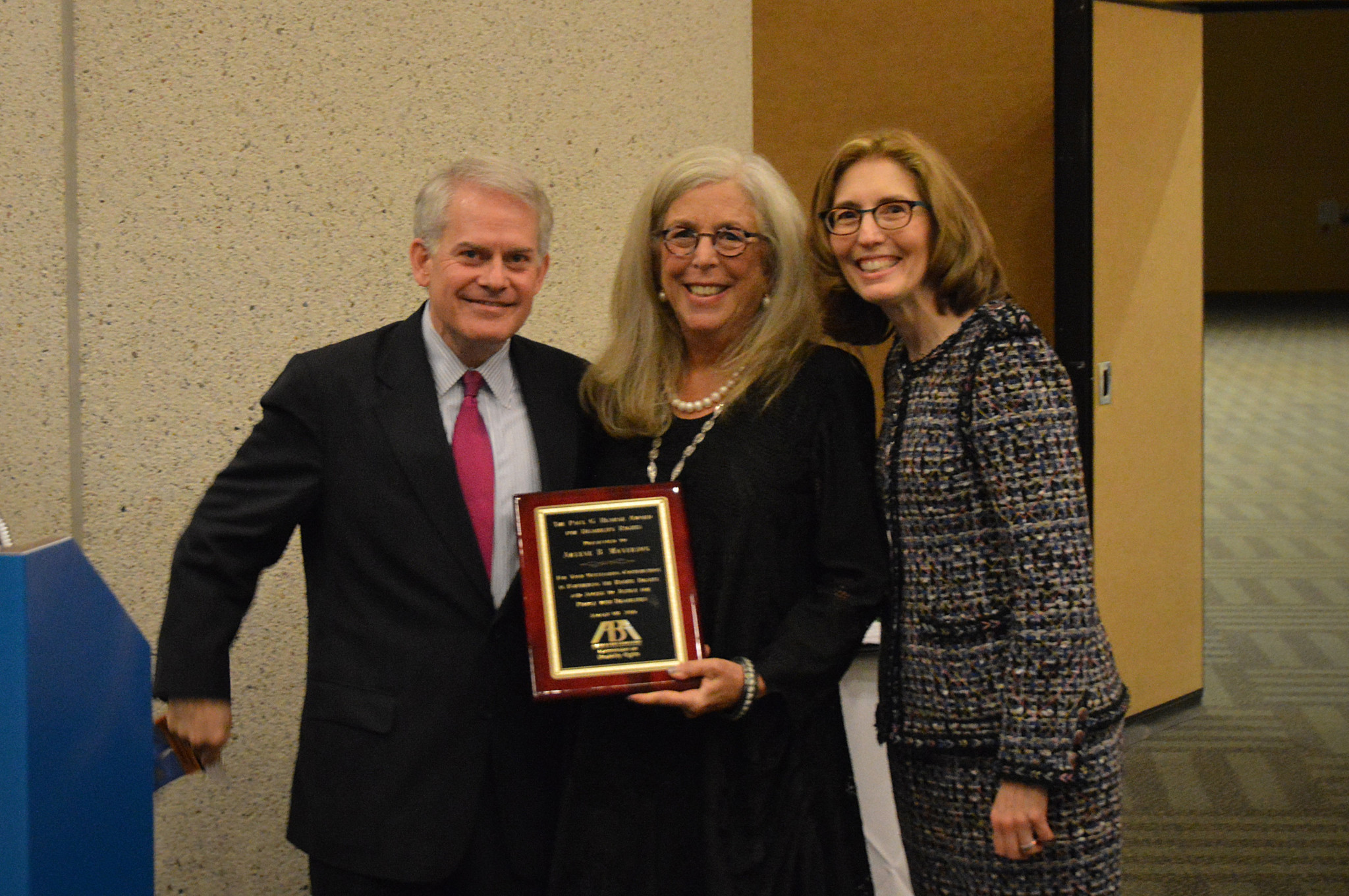 Mayerson was appointed by the Secretary of the U.S. Department of Education to the Civil Rights Reviewing Authority, responsible for reviewing the civil rights decisions of the department. She is a John and Elizabeth Boalt lecturer in disability law at the University of California, Berkeley (Boalt Hall), and serves on the Advisory Committee of The Impact Fund. Her several awards and honors include the Spirit of Independence Leading Advocate Award from the Center for Independent Living (1993), the American Diabetes Association Public Policy Award (1997), the John and Elizabeth Boalt Lecturer Award (2013), the Henry Viscardi Achievement Award (2015), the Starkloff Disability Institute's Open Door Award (2015), and the ABA Paul G. Hearne Award for Disability Rights (2016).
She has published many articles on disability rights and is the author of a comprehensive three-volume treatise on the ADA: Americans with Disabilities Act Annotated-Legislative History, Regulations & Commentary (Clark Boardman Callaghan, 1994). Arlene Mayerson received her LL.M. from Georgetown University, J.D. from Boalt Hall, and B.S. from Boston University.
Jody Adams
Co-owner, Saloniki, Porto, and Trade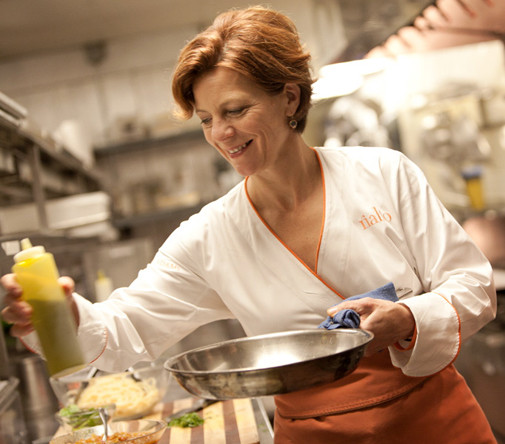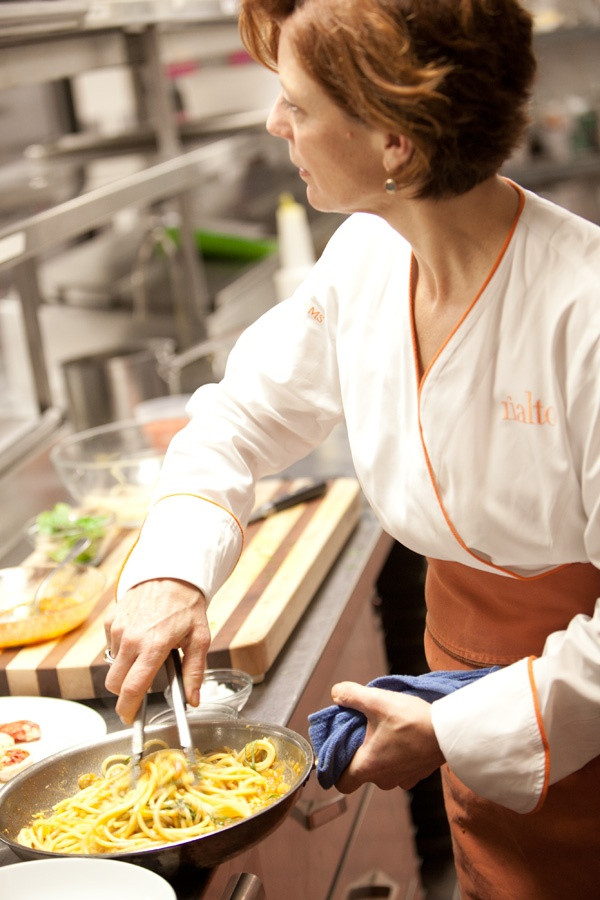 It's hard to miss Jody Adams's Rialto when she keeps opening cutting-edge eateries. Best known for decades of culinary wonders at the now-closed Harvard Square institution, the chef and restaurateur has most definitely moved on, as co-owner of Trade and now Porto, a Mediterranean-inspired hot spot that opened last summer. But what's creating buzz—and raising eyebrows—is Adams's Greek-themed fast-casual venture, Saloniki, which she launched in the Fenway in March 2016. Are Adams and her partners, Jonathan Mendez and Eric Papachristos, on their way to creating a quick-service gyro empire? They already expanded to Cambridge this past January and there are plans for a number of Salonikis in the works, though Adams isn't tipping her hand on when or how many. She isn't stopping there, though. Long known for her support of local farms and the Greater Boston Food Bank, the chef is also planning to become more active in promoting and shaping the entire Boston restaurant scene, working with other industry pros to address thorny issues such as immigration, wages, and healthcare costs. "The business of doing restaurant business in Boston is changing," Adams says. "New policies, pressures, and social behavior require engagement." As does her other high-profile culinary cause: "I will continue to actively promote women in the restaurant world through support of restaurants run by women, both in front and as chefs, bringing awareness to the significant role we play."
* © National Women's History Project | P.O. Box 469, Santa Rosa, CA 95402
** The 21 Most Powerful People in Boston Business, Boston Magazine, April 2017