Carpe Diem: The Day I Ate Bold For Breakfast
According to Dictionary.com, one of the definitions of the word "BOLD" is as follows: "Beyond the usual limits of conventional thought or action; imaginative."
Every December for the past 5 years, I attend the Massachusetts Conference for Women. I have even had the privilege of speaking at the conference. It is a truly awesome day: over 11,000 women gather to be inspired by, to learn from and to listen to their personal and professional role models. While I love the opportunity to sit and listen to A-List keynote speakers, the secret sauce for me at this conference is the variety of breakout sessions. I find that it's during these slightly more intimate settings, complete with Q&A sessions, that the spark is reignited in me and my fire burns anew. I always walk away with a refreshed sense of purpose and through these sessions, I'm grateful to always learn about a new book, app, website or resource to help further my personal or professional journey.
At this exact time last year, one of my business idols, Bethenny Frankel, was being featured in a breakout session. I had definitely planned accordingly, all the way down to my "fashionable yet functional" footwear. (See photo: Momma didn't raise no dummy--you have to hightail it all over the Boston Convention & Exhibition Center to get a seat at your favorite speakers' sessions and I may have hip-checked a few ladies to jockey for a prime position at the Bethenny Frankel session. Allegedly.)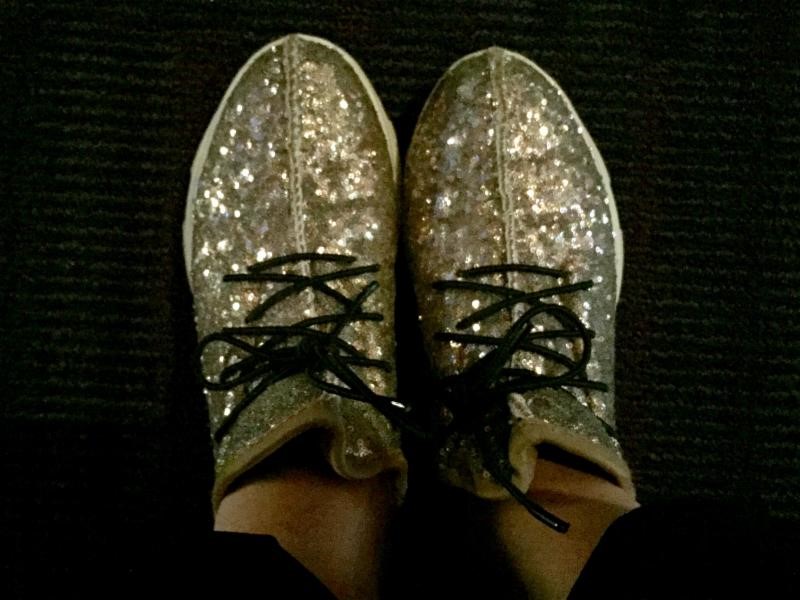 When asked by the moderator for a few pearls of wisdom, Bethenny mentioned that some of the women in the audience that day would "be bold and execute and some of them won't."
And that's when it struck me.
This was my chance. I had an opportunity to make my mark and make myself known to one of my business idols. It was now or never. Security guards be damned, I grabbed one of my business cards, marched up to the microphone for the Q&A session and the rest is now history...or my story, as I like to call it. By some divine intervention, my girlfriend had the good sense to video the event. I'm so thankful for her instincts as I didn't tell a soul what I was planning on doing because even I didn't know I was doing it until that split second in which I had decided to do it!! But I am forever grateful to have this memory preserved on video as it will be the constant reminder upon which I rely when the brave version of myself decides to take a short vacation.
So, there you have it. That's the story, complete with video, about the day I ate bold for breakfast. And, for all of you out there who are wondering...I assure you, it was delicious.


©Copyright 2018 Kim Miles, Founder and CEO, Miles in Heels Productions, LLC
---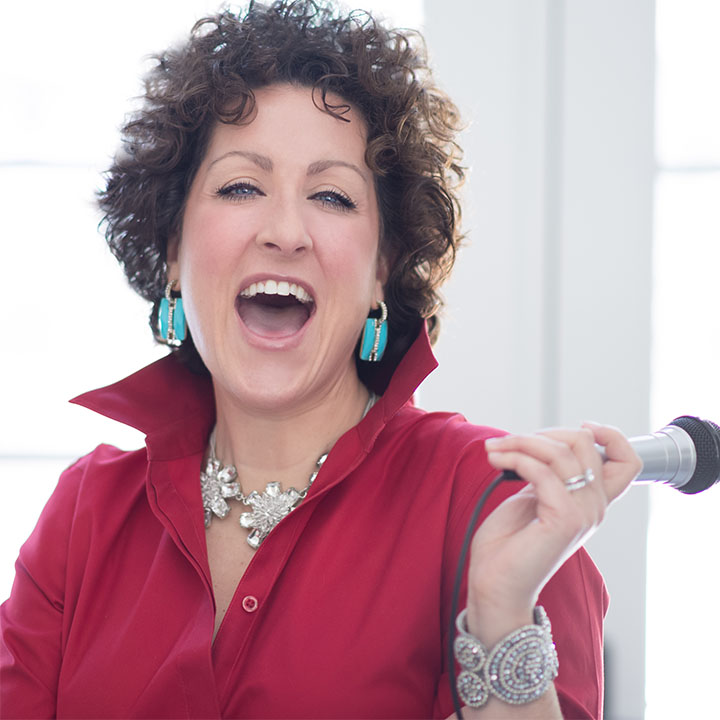 BIO:
What do you call a successful businesswoman with a vibrant financial-advisory practice, more than 25 years of sales experience, a background in performing, and a serious shoe habit? Kim Miles! Through her company, Miles in Heels Productions, Kim is a highly sought-after emcee, panel moderator, creative collaborator and event strategist who partners with her clients to deliver critical messaging to their key audiences in fresh, unexpected and entertaining ways. From ideation to execution, Miles in Heels Productions is the answer. When you need to think outside of the box and laugh while you're learning, look no further: if Oprah and Ellen had a love-child, it would be Kim Miles.
Kim's clients include The Massachusetts Conference for Women, Babson College, Worcester Women's Leadership Conference, Wellesley College, Winchester Hospital/Lahey Health, Women's Bar Foundation of Massachusetts, Yankee Dental Congress, Bay Path University, Goulston & Storrs Counsellors at Law, College of The Holy Cross, MassChallenge, Women in Technology International, Colwen
Hotels, Regis College, Bryant University Women's Summit, MetroWest Conference for Women and many more. She's a proud member of The WIN Lab Coaching Circle at Babson College, the Innovation Women Speakers Bureau, and the Boston Women in Media and Entertainment Speakers Bureau. With over 17 years of experience producing programs for as few as 30 people and as many as 1000, Kim makes every event feel as intimate as hanging with your closest pals over a glass of wine.
A serial networker, Kim has harnessed her passion for connecting and motivating fellow entrepreneurs by co-creating "Getting Past Hello!"™, an innovative and engaging curriculum with the singular focus of cultivating lasting business relationships, and "The Second Chapter Sisterhood,"™ a networking and skill-building series for women to "mix, mingle, and mastermind" and help each other overcome barriers between themselves and their goals. In addition, Kim helps her clients reclaim their mojo through her "MOJO Masterclass" ™, her signature Confidence Coaching--because every one of us needs a cheerleader once in a while! When she's not working, Kim has been known to take off her signature heels only to hit the slopes or the golf course…that is when she's not singing with her band!