2019: GRIT OVER GLITTER. FIRE OVER FEAR.
|
author/source:
Tamara Gardner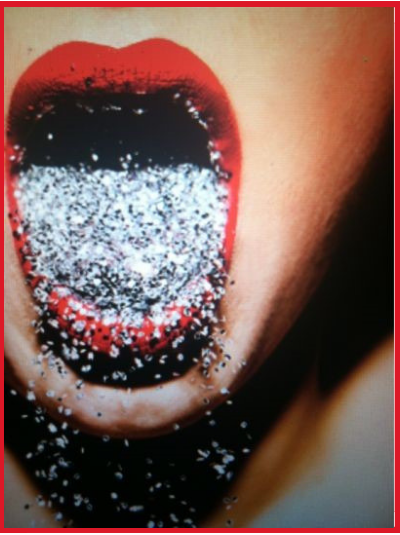 This year has absolutely kicked me in the ass. For one, my love of politics was trampled when the news (and Twitter) became an emotional assault weapon and turned what was formerly "lively and educational" political discussions into hate-filled accusatory rants. Then, my personal life went from a Zen-like refuge to an emotional battlefield I couldn't find an escape from and from there my two businesses, health, and self-care mojo started to take a back seat to survival and "showing up". Everything was on fire.
Fun fact: no one knew. While I was posting daily encouragement to the Be Boldacious tribe and speaking at conferences encouraging women to "navigate life boldly and live it audaciously", I had stopped sharing anything even slightly resembling an opinion on social media for fear of being called a "sensitive snowflake" or plain out textually screamed at. Where I used to "use my words" to bring peace to family disruption, I stayed silent. Socially, I "turtled" and was wracked with anxiety fueled shame spirals every time I didn't answer a text, avoided a call, or failed to enthusiastically accept an invitation. At a certain point during the Kavanaugh hearings after sacrificing my privacy for principle I was so strongly compelled to toss my phone/laptop and run away from everything and everyone it scared the hell out of me.
I "introvert escaped" into my phone instead and was instantly barraged with "motivational" messages like this:
"Just manifest it, girl!"
"All it takes is a positive mental attitude!"
"You've got this, bossbabe!"
All written in glittery cursive writing and screaming that everything would be better if I was just mindful, balanced, spiritually hip, and super-duper-uber positive with a crack-like yoga addiction. Suddenly "life coaches" were popping up like weeds with no formal training and irrational promises that you too could live the pretty life they were touting on Instagram. Endless video blogs, articles, live posts and retreats all with the same messaging: You can make your life perfectly what you want it to be. It's not what happens to you, it's how you react. It's all inside you, change your mindset and change your life. Manifesting positivity will enable positive things to happen. The common denominator of all of it seemed to be if you fix yourself everything will be ok.
And BOOM! This near 50-year-old veteran realist got pissed and suddenly, the fires that were burning me alive started to fuel me. How dare we burden young girls and women with this crap? Even worse, profits were being made from fluffy jargon divorced from reality that was shamefully coercive. For more years than I've been alive women have fought to keep moving progressively forward and now shiny, glittery one-liners about empowerment were commercially minimizing the movement.
Now, before anyone wants to light their yoga mat on fire and chase me through the village for being a negative joy killer, hear me out…positive attitudes are good. Yoga is healthy. Vision boards support goal attainment. However, we can all agree that life is just way too complicated and unpredictable for a toned butt, vision board and/or PMA to be single source solutions.
So, in 2019 I'm challenging myself and all of you to stop throwing up glitter philosophies and fight for a different narrative that REALLY shows the strength of a woman. Here are some talking points to get us started:
Grit over glitter

: we understand that life is beautifully chaotic and are smart enough to know it can warm you like a fuzzy blanket just as easily as it can rip your heart out. We accept we are not Oz and we are going to react to everything it throws at us with the best grit we can muster because we are humans.

Fire over fear

: We are giving ourselves permission to not follow the script of being demure, polite non-swearing caretakers that don't get angry out of fear of being judged as hysterical. In fact, we are going to brazenly say what we feel and when things aren't going the way we want or need, we're going to channel our anger and frustration into fuel and empowerment (it certainly beats the hell out of tearfully eating a nightly pint of Ben & Jerry's after your rendezvous with Kendall Jackson all while cuddling your cat and feeling helpless).

Kick-ass empaths

are going to be more powerful than the Space Force. Being emotionally intuitive and using it for the good of yourself and others is NOT a delicate as snow handicap, it's a damn impressive superpower and we will no longer be ashamed of it.
We are not "bossbabes"

…we are THE BOSS, babe and our businesses are not a fad.

REAL is a badge of honor

…even the most successful, bulletproof looking women feel like a hot mess sometimes and it is OK…being real is our secret sauce.
I could go on and on…what would YOU add to the list?
---
Tamara is the owner of Tamara Gardner Coaching & Consulting in Hingham, MA where she uses her expertise in people, planning, and processes to help busy professionals and business owners "quiet the noise" and get strategically positioned to accelerate their growth and success. In addition, she is the founder of Be Boldacious, a brand and online community geared towards motivating women and teen girls to gain the confidence to navigate life boldly and live it audaciously as who they are, not who they were told to be.
With extensive real-life, in-the-trenches experience navigating the corporate sector, entrepreneurship, and personal challenges what makes her uniquely effective as a coach/consultant is having a blend of professional expertise she harnesses to help her clients achieve breakthrough results.
Tamara is also a published author and highly regarded speaker with a reputation for using humorous stories, provocative questions and a realistic perspective to engage and motivate her audiences.
Personally, Tamara is known to be down to earth, "southern sarcastic", and obsessed with NFL football and Octane on Sirius. She lives in Braintree, MA where she and her husband both attended high school.