I Feel the Earth Move
|
author/source:
Swanee Hunt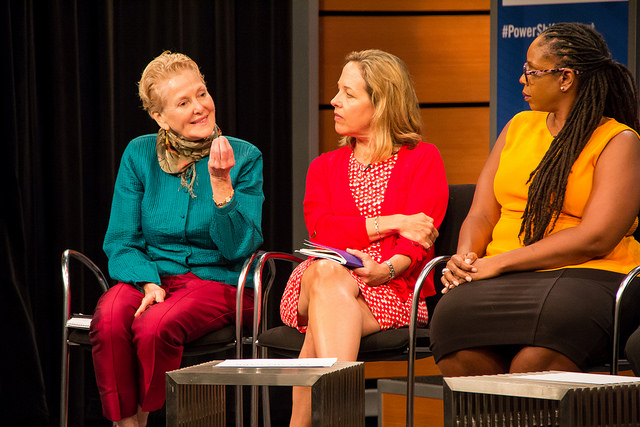 It's finally fall here in Washington—and as I walk to work down Connecticut Ave., I sense a persistent rumbling. As my icon, Carole King would sing, "I feel the earth move under my feet."
It's a seismic shift.
As they say around here, government leaders (and to note the obvious, three-quarters of the Senate Judiciary Committee) is pale and male. Never has that been more clear than of late, when we've seen women excoriated for standing up and telling their truths. And, of course, men telling women what we should and shouldn't do with our very own bodies.
Now, the proverbial chickens are coming home to roost—and run. Women from every corner of our country are saying #TimesUp and vying for positions in record numbers.
Of our paltry (like six ☹ ) number of women governors, four are Republican. But among the 20 percent of females in Congress, Dems dramatically outnumber Rs. So take this in:
• In 2016, with Hillary in the race, nearly 1,000 women expressed interest in running for office to EMILY's List, which supports pro-choice Democratic candidates.
• Since the election debacle that year, the number has ballooned to 40,000.
Talk about HUGE.
And so? Women have won an unprecedented 65% of open Democratic primaries this year when at least one man and one woman are on the ballot. And in this midterm election—the most important in my memory—I'm betting we'll make serious gains.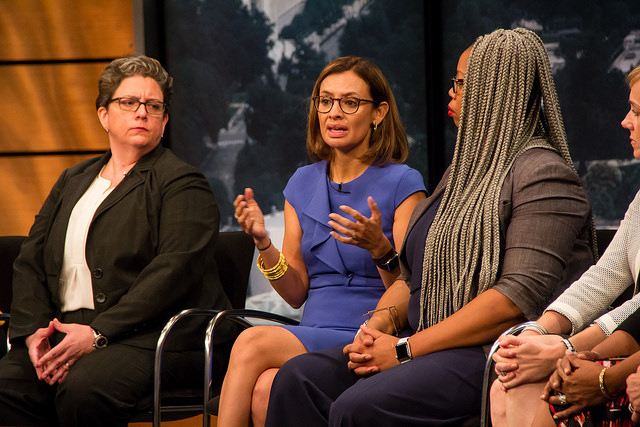 I'm following this shift faithfully, so here are some resources with the latest data re. this political #TimesUp moment. (New ones are appearing every week.)
We co-hosted a historic, packed, press briefing at DC's Newseum, alongside Freedom Forum CEO Jan Neuharth and Women's Media Center Co-chair Maya Harris (yes, sister of the spectacular new Senator) on women running for office this year. With a diverse panel of female political powerhouses—I love these photos!—and fresh analysis from Debbie Walsh at the Center for American Women and Politics, we dug into the infrastructure supporting, or not, the record number of women candidates. The speakers took on the complex intersections among gender, race, and politics. Take a few minutes to watch this link. A highlight for me is Mũthoni Wambu Kraal talking about the women who've gone "from marching to training to running." Tell me she doesn't make you want to knock on doors and put up signs.
This free publication, here, distills research on women candidates and elected officeholders. It's introduced by Kerry Healy (Mitt Romney's Lt. Governor) and me; we co-founded Political Parity, a nonpartisan platform, ten years ago. The reader examines everything from leadership styles to policy outcomes, breaking down the issues—societal, financial, partisan—that affect our gender parity. It offers concrete strategies from here and abroad to help us better support women contenders and legislators. I'm really proud of this landmark project, and I think you will be too.
• WOMEN RULE Candidate Tracker
This cool interactive feature hosted by Politico is a collaboration between the Center for American Women and Politics at Rutgers and the Women in Public Service Project at The Wilson Center. It's updated regularly with each primary election to reflect the number of women who have advanced to the November election.
• New York Times Interactive on Women Candidates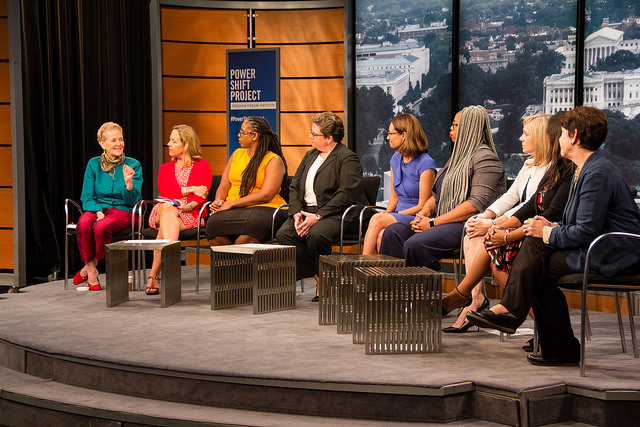 This terrific piece by Denise Lu and Kate Zernike takes a deep dive into the data about women running in 2018—as well as political factors influencing which candidates have a better shot at the general. The project highlights historic firsts and leadership coalitions trying to diversify Congress and state houses. I guarantee you'll learn something new.
It's not too late to be part of this seismic shift. Contribute to a woman candidate, whether running for town council or governor. Late money can still help get their message out. Roll up your sleeves and volunteer. Your candidates need you to knock on doors, make phone calls, and register voters (if they haven't already been disenfranchised ☹).
This isn't about just one election—though I hope we'll be celebrating all night November 6th. This is about an enduring change. It's about creating a legitimate and just democracy that leverages our differences and creates inclusive security for all its citizens.
The seismic shift starts with our understanding that representation matters. And it continues with the determination of upstream disruptors like you and me. I look forward to connecting sometime after the ballots are counted and more glass ceilings are shattered.
Onward!
Swanee Hunt
Swanee Hunt Alternatives
1615 M Street NW
Washington, DC 20036
https://www.swaneehunt.org
Duke author, Harvard lecturer, global reformer, social strategist, former diplomat, photographer, musician, rancher, political animal, granny