Eggnog Chia Pudding
|
author/source:
Recipe by: Lisa Bryan Shared By: Jamie Swartz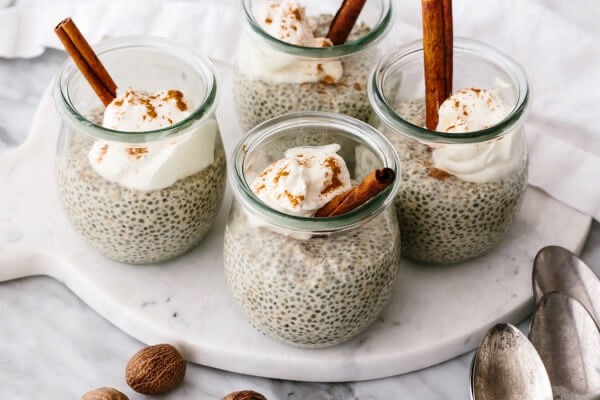 PREP TIME: 5 mins
WAIT TIME: 4 hrs.
TOTAL TIME: 4 hrs. 5 mins
SERVINGS: 4 servings
YIELD: 2 1/2 cups
AUTHOR: Lisa Bryan
Eggnog chia pudding is the perfect way to enjoy a Christmas classic - in dessert form! It's delectably creamy, filled with holiday spices, and it can be made with or without alcohol in the eggnog if you make the eggnog at home.
INGREDIENTS
2 cups eggnog

1/2 cup chia seeds

Optional toppings: whipped cream, spices, and cinnamon sticks.
INSTRUCTIONS
In a mixing bowl, stir together the egg nog and chia seeds. Let it sit for 10 minutes, then stir again once the seeds have started to gel.

Cover the bowl and place it in the refrigerator to chill for at least one hour or overnight. I usually prefer a minimum of 4 hours to let the chia seeds gel properly.

Remove the eggnog chia pudding from the fridge and give it a good stir. Split the chia pudding into 4 cups, add toppings, spices, and enjoy!
NUTRITION
CALORIES: 215 kcal,
CARBOHYDRATES: 19g,
PROTEIN: 9g,
FAT: 12g,
SATURATED FAT: 4g,
CHOLESTEROL: 75mg,
SODIUM: 72mg,
POTASSIUM: 296mg,
FIBER: 7g,
SUGAR: 10g,
VITAMIN A: 262iu,
VITAMIN C: 2mg,
CALCIUM: 299mg,
IRON: 2mg