White New Year 2021 Sangria
|
author/source:
Recipe by: Lisa Bryan, Shared by: Jamie Swartz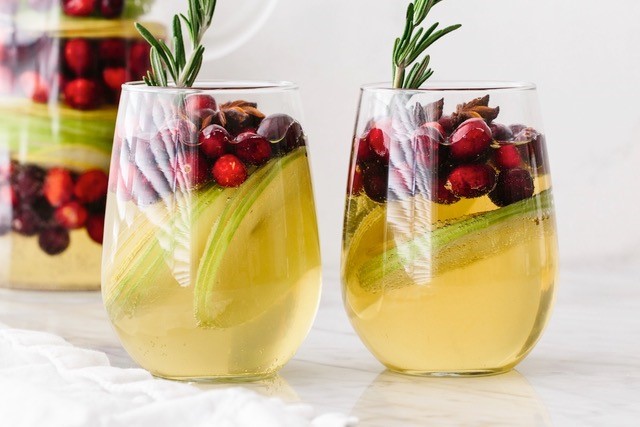 PREP TIME: 10 mins
TOTAL TIME: 10 mins
SERVINGS: 4 servings
AUTHOR: Lisa Bryan
This white Christmas sangria sparkles with seasonal colors is splashed with bubbly apple cider, and turns your favorite white wine into the best holiday drink!
INGREDIENTS
1 750ml bottle of white wine

1 cup sparkling apple cider, plus more for topping off

2 cups fresh cranberries

1 green apple, sliced

1 green pear, sliced

rosemary sprigs and star anise, for garnishing
INSTRUCTIONS
Thinly slice the apple and pear. You can use a knife or a mandoline. Then pour the wine, sparkling apple cider, cranberries, apple slices, and pear slices into a large pitcher. You can layer them or simply mix them all in. Refrigerate the sangria for at least 4 hours, or overnight to let the flavors meld together.
Serve the sangria in individual glasses over ice and top off with fresh sparkling apple cider.
Garnish with rosemary sprigs, and star anise before serving.
TIPS
Because there's sparkling apple cider in this recipe, which is typically sweetened, I don't think you need any additional sweetener. But if you like a very sweet sangria, you can always add a little honey or maple syrup.
NUTRITION
CALORIES: 76kcal,
CARBOHYDRATES: 20g,
PROTEIN: 1g,
FAT: 1g,
SATURATED FAT: 1g,
SODIUM: 3mg,
POTASSIUM: 160mg,
FIBER: 3g,
SUGAR: 15g,
VITAMIN A: 25iu,
VITAMIN C: 5mg,
CALCIUM: 11mg,
IRON: 1mg