Teriyaki Chicken
|
author/source:
Lisa Bryan and Shared Jamie Swartz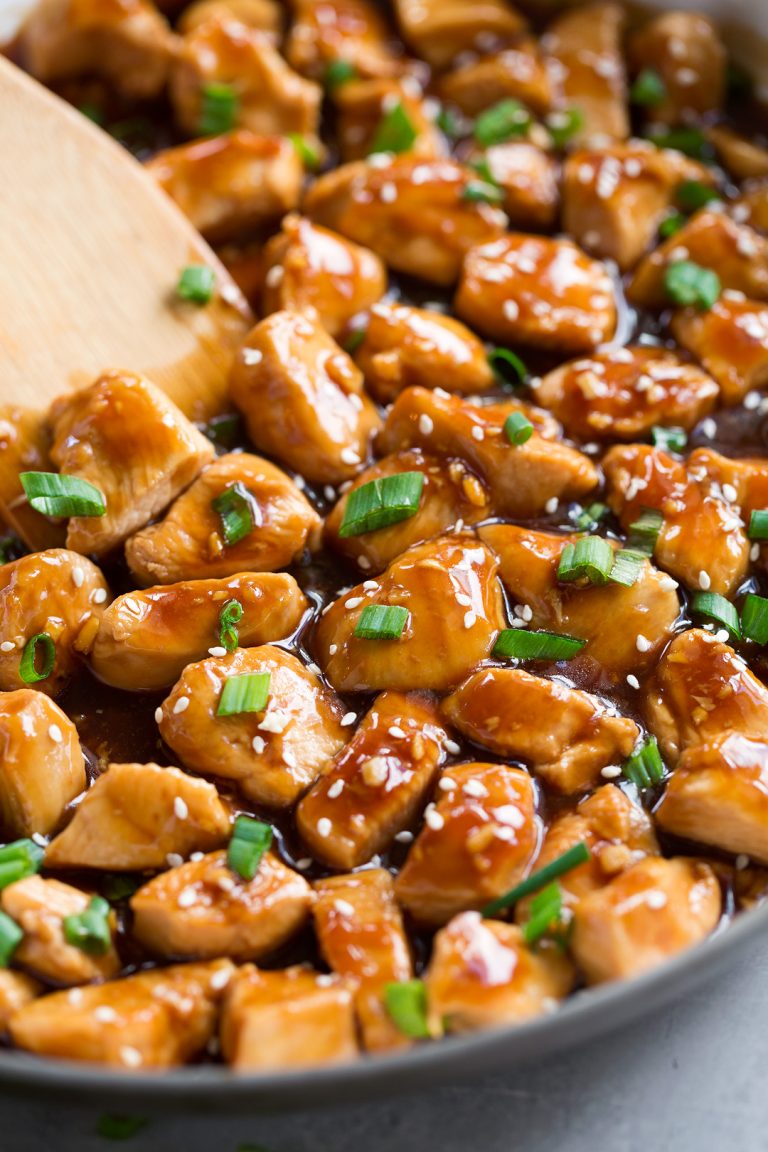 PREP TIME: 10 mins
COOK TIME: 10 mins
TOTAL TIME: 20 mins
SERVINGS: 4 servings
AUTHOR: Lisa Bryan
Teriyaki chicken is bursting with flavor and super easy. This Japanese restaurant's favorite can be made in 20 minutes! Watch the video above to see how I make it.
INGREDIENTS:
Chicken Stir Fry
· 1 1/2 pounds boneless skinless chicken thighs, diced into 1-inch cubes
· 1 tablespoon avocado oil
· 1 tablespoon finely chopped ginger
· 2 cloves garlic, minced
Teriyaki Sauce
· 1/4 cup tamari soy sauce, or coconut amino
· 1/4 cup sake
· 1/4 cup mirin
· 2 tablespoons honey
Garnish
· Sesame seeds
· Sliced green onion
INSTRUCTIONS
In a medium-sized bowl, whisk together the soy sauce, sake, mirin, and honey until everything is well combined. Set this aside.
Dice the chicken breasts into 1-inch pieces. Then heat the oil in a large sauté pan or wok over medium-high heat. Add in the chicken and let it cook for 1-2 minutes on one side, until nice and golden, then stir fry and cook the other side for another 1-2 minutes. You don't want it cooked through at this stage, just seared on the outside.
Give the sauce a quick whisk add it to the pan along with the minced ginger and garlic. Stir the sauce with the chicken and let it simmer for 4-5 minutes until the sauce has thickened.
Serve on top of a fresh bed of rice and a side of steamed broccoli. Garnish with diced green onions and sesame seeds.
NUTRITION
CALORIES: 321kcal,
CARBOHYDRATES: 17g,
PROTEIN: 35g,
FAT: 11g,
SATURATED FAT: 2g,
CHOLESTEROL: 162mg,
SODIUM: 1345mg,
POTASSIUM: 458mg,
FIBER: 1g,
SUGAR: 12g,
VITAMIN A: 41iu,
VITAMIN C: 1mg,
CALCIUM: 22mg,
IRON: 2mg