Zucchini Pasta with Lemon Garlic Shrimp
|
author/source:
Recipe by: Lisa Bryan Shared By: Jamie Swartz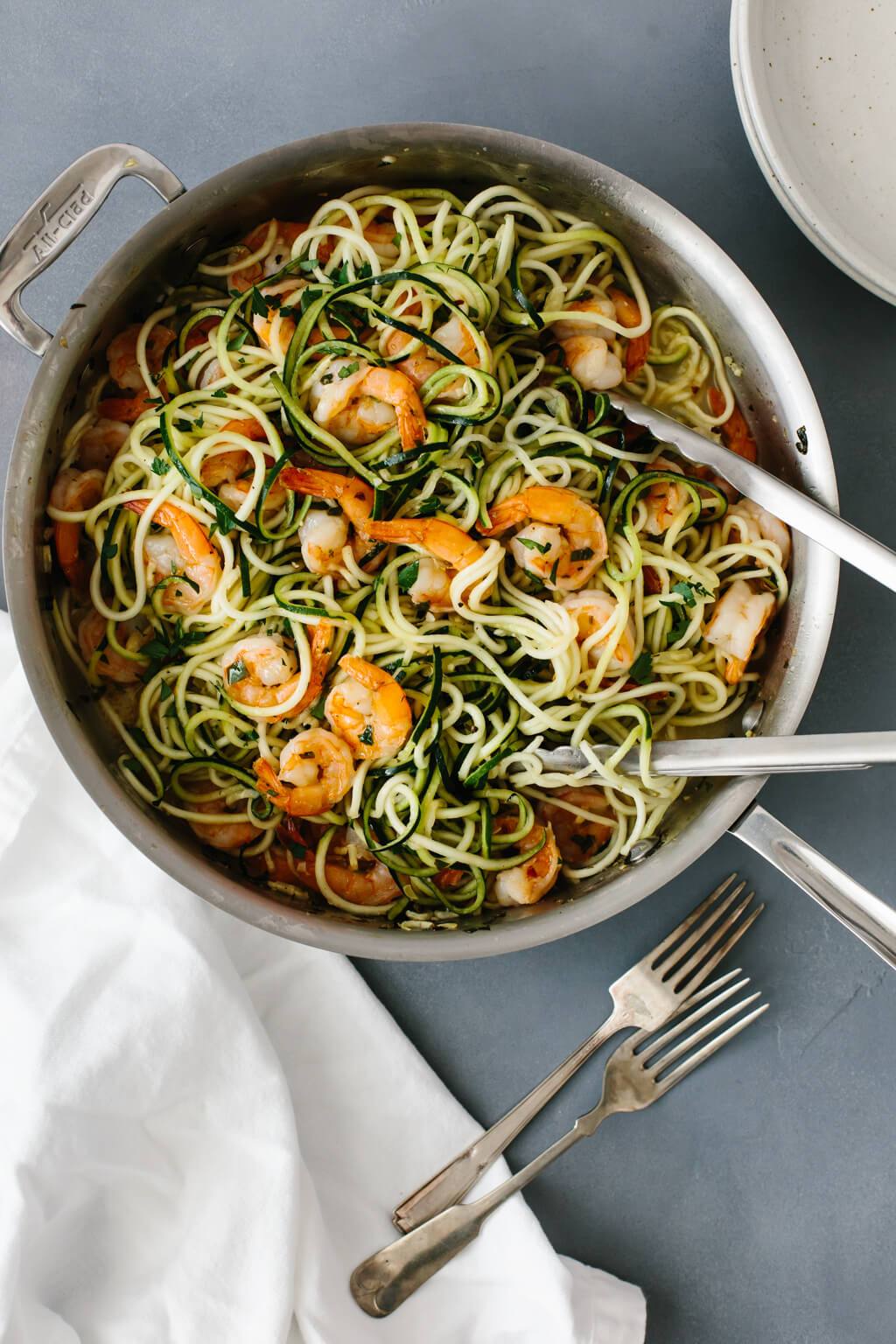 ZUCCHINI PASTA WITH LEMON GARLIC SHRIMP
PREP TIME: 10 mins
COOK TIME: 5 mins
TOTAL TIME: 15 mins
SERVINGS: 4 servings
AUTHOR: Lisa Bryan
Healthy zucchini noodles "zucchini pasta" are tossed with lemon garlic shrimp for an easy, family favorite dinner recipe. It's naturally gluten-free, low carb, and can easily be made Whole30 by replacing the white wine with chicken broth.
4 medium zucchinis

1.5 lb approx 30 raw shrimp, peeled and deveined

2 tbsp olive oil

4 garlic cloves, finely chopped

2 tbsp butter or ghee

1 lemon, juice and zest

1/4 cup white wine, or chicken broth

1/4 cup chopped parsley

pinch of red pepper flakes

salt and pepper, to taste
INSTRUCTIONS
Wash and cut the ends of the zucchini. Using a spiralizer, make the zucchini pasta. Then, set aside.

Heat the oil in a large pan over medium-high heat. Add the shrimp in one flat layer and sprinkle with salt and pepper. Cook for one minute without stirring, so the bottom side gets a little crispy.

Add the chopped garlic, then stir the shrimp for another minute or two to cook the other side. Use a large spoon or tongs to remove the shrimp to a plate.

Add the butter, lemon juice and zest, red pepper flakes and white wine to the pan. Bring to a simmer for 2-3 minutes while stirring.

Stir in the parsley, then add the zucchini pasta and toss for 30 seconds to warm it up. Add the shrimp back to the pan and stir for another minute. Serve immediately.